We canvass the 1/ST BET statistical database each week to bring you up to speed with racing at Laurel Park. Check back weekly for statistical trends and tidbits for premier racing in Maryland. And be sure to support Laurel Park by betting with 1/ST BET, the official betting app of Maryland Jockey Club.
Headlines
Laurel Park kicked off its Lasix-free 2-year-old racing for the 2020 season last Friday, August 7 as 15-1 shot Ain't Da Beer Cold provided a Stronach 5 opening race upset. MJC announced last week that nine stakes worth $100,000 each will be held over Labor Day weekend at Laurel Park, including the Federico Tesio Stakes, a 'Win and You're In' qualifier for the October 3 Grade 1 Preakness Stakes at Pimlico. Because of the COVID-19 cancellation of the state fair at Timonium, Laurel Park will add an additional 7 days of racing to its August schedule.
Stronach 5
The Stronach 5 paid $7,492 for a $1 ticket on August 7, and this week returns with Golden Gate Fields back in the mix. The Stronach 5 for Friday, August 14 will be comprised of the following races (all times Eastern):
Leg A – Laurel Park Race 7 with an approximate post time of 3:58
Leg B – Gulfstream Park Race 9 with an approximate post time of 4:14
Leg C – Laurel Park Race 8 with an approximate post time of 4:32
Leg D – Laurel Park Race 9 with an approximate post time of 5:07
Leg E – Golden Gate Fields Race 2 with an approximate post time of 5:20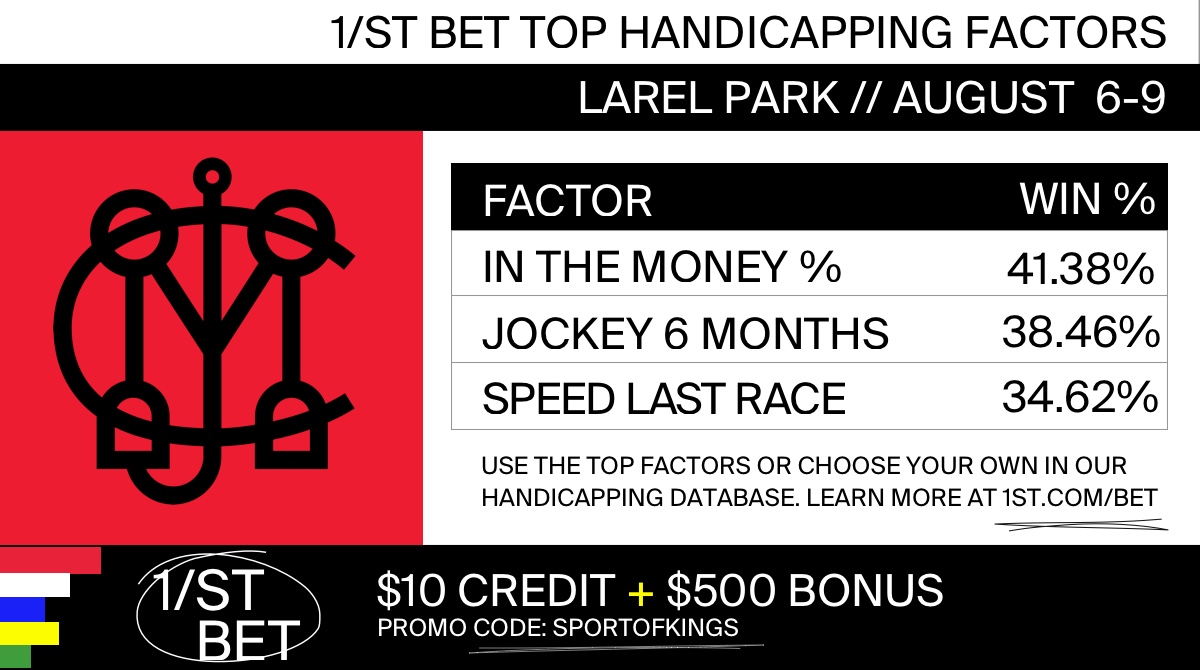 1/ST BET Top Factors Last Week:
Horseplayers using the 1/ST BET app saw the most success with these 3 of the 52 handicapping filters for Laurel Park, each showing at least 35% wins with its top-rated contender.
ITM (In The Money) %
Jockey 6 Months
Speed Last Race
Trends Last Week:
--Trainer Kenneth Cox went 2-for-2 last week with $6 and $32 winners, both maiden breakers ridden by Angel Cruz.
--Trainer Hamilton Smith posted a 5: 2-1-1 record on the week, boasting $19 and $32 winners for a $5.14 ROI for every $1 bet. Xavier Perez rode all 3 of his exacta finishers.
--Jockey Charlie Marquez had the hot hand at 15: 5-1-3 on the week. His 33% wins produced a $1.49 ROI for every $1 bet while riding winner for 5 different trainers.
--Jockey Jevian Toledo went 8: 4-2-0 on favorites last week, riding chalks for 7 different barns and delivering when expected.
Trends Last 2 Weeks:
--Favorites are hitting 43% over the past 53 races with 72% finishing in the exacta.
--Jockey Jevian Toledo is 18: 7-5-2 on turf, boasting 39% winners and 67% in the exacta.