We canvass the 1/ST BET statistical database each week to bring you up to speed with racing at Laurel Park. Check back weekly for statistical trends and tidbits for premier racing in Maryland. And be sure to support Laurel Park by betting with 1/ST BET, the official betting app of Maryland Jockey Club.
Headlines
All 14 turf races last week were moved to the main track due to excessive wet weather … The MJC welcomed back an infusion of stakes talent Aug. 14 when 2019 Iowa Derby winner Top Line Growth returned from a 322-day layoff and impressed in a third-level local allowance. The Kelly Rubley trainee ran 1 mile on dirt in 1:34.74, just .67 off his own track record … Jockeys who rode at Colonial Downs will be able to return to Laurel Park only after a 14-day quarantine period beginning Aug. 13 and a negative COVID-19 test taken within 72 hours in hand. Several jockeys who ride regularly at Laurel rode at Colonial before the meet was cancelled, including Trevor McCarthy, Forest Boyce, Charles Lopez, Jorge Ruiz and Avery Whisman … Sheldon Russell, Laurel's leading jockey at the time of his July 15 gate mishap that landed him a broken wrist, will have his follow-up doctor's visit Aug. 27 to assess his progress, according to his wife, trainer Brittany Russell.
Stronach 5
The Stronach 5 paid $1,733.60 for a $1 ticket on August 14, split among 51 winners. The Stronach 5 for Friday, August 21 will be comprised of the following races (all times Eastern):
Leg A – Laurel Park Race 7 with an approximate post time of 3:58
Leg B – Gulfstream Park Race 9 with an approximate post time of 4:14
Leg C – Laurel Park Race 8 with an approximate post time of 4:32
Leg D – Laurel Park Race 9 with an approximate post time of 5:07
Leg E – Golden Gate Fields Race 2 with an approximate post time of 5:20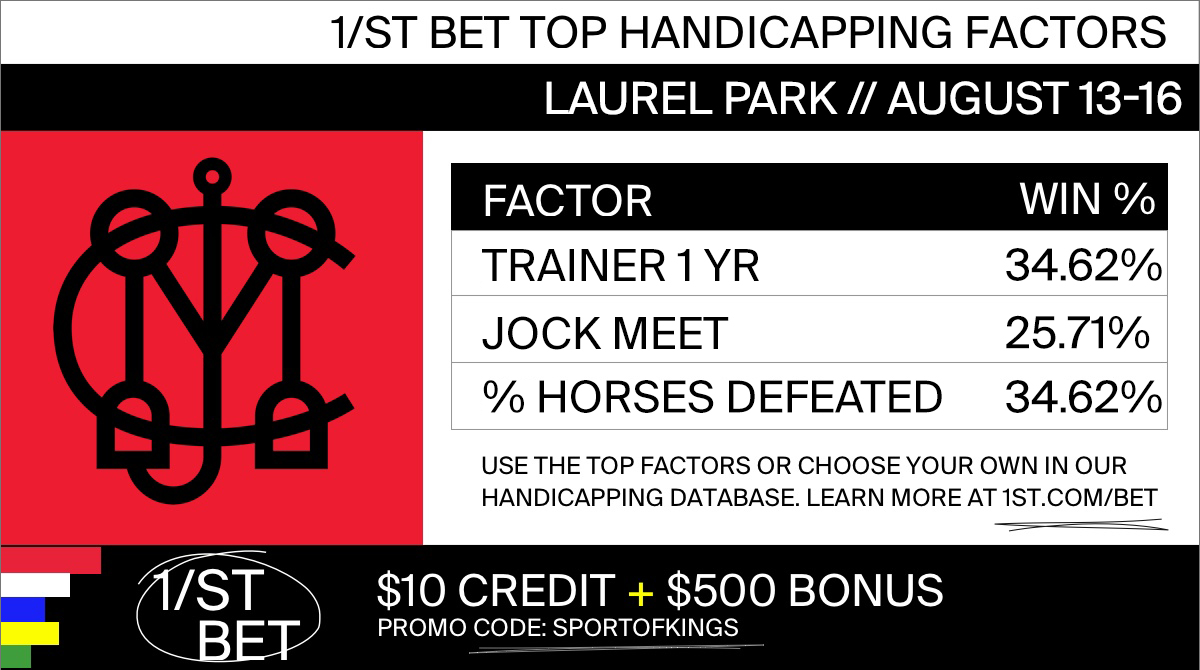 1/ST BET Top Factors Last Week:
Horseplayers using the 1/ST BET app saw the most success with these 3 of the 52 handicapping factors for Laurel Park, each showing a flat-bet profit and at least 26% wins with its top-rated contender.
Trainer 1 Year
% Horses Defeated
Jockey Meet
Trends Last Week:
--Trainer Claudio Gonzalez led the way with a 13: 5-1-2 week, including a 4-for-7 record teamed with jockey Angel Cruz. His barn hit 5-for-10 with runners at 9-2 or less odds.
--Trainer Damon Dilodovico continued a strong surge with an 8: 3-3-0 record. That's 38% wins and 75% in the exacta, including a $12 winner and an 11-1 runner-up.
--Trainer Jamie Ness was 5-for-6 in the exacta and 6-for-6 in the money with a series of heavily bet runners. His half-dozen entrants went off an average of 6-5 and none over 2-1.
--Jockey Angel Cruz topped the colony with a 15: 5-1-1 record, featuring 4 wins with trainer Claudio Gonzalez. Cruz went 5-for-10 with horses 4-1 or less odds.
--Favorites were a strong 26: 11-7-4 on the week, hitting 42% wins and 69% in the exacta. The average win odds for the week were 5-2, and favorites clocked in at an average price of 6-5.
Trends Last 2 Weeks:
--Trainer Cal Lynch has posted an 8: 3-1-3 record with limited starts. All 3 winners were 2-1 or less, but he does have a 14-1 runner-up among those finishes.
--Trainer Wayne Potts has a similar 8: 3-0-2 record with limited bids that includes a 7-1 winner. He's 4: 2-0-1 with jockey Jevian Toledo during that span.
--Jockey Lauralea Glaser has done the most with few mounts, posting a 7: 4-2-1 record, riding primarily for the father-son tandem of Cathal and Anthony Lynch.
--Jockey Angel Cruz is 8-for-30 (27%) with a $2.15 ROI for every $1 bet. He boasts $32 and $57 winners during this streak.
Trends Last 3 Weeks:
--Jockey Jevian Toledo is 15: 9-4-0 (60% win, 87% exacta) when riding favorites.
--Favorites are hitting 43% over the past 79 races with 71% finishing in the exacta.