We canvass the 1/ST BET statistical database each week to bring you up to speed with racing at Gulfstream Park. Check back weekly for statistical trends and tidbits for premier racing in South Florida. And be sure to support Gulfstream Park by betting with 1/ST BET, the official betting app of Gulfstream Park.

Headlines
Gulfstream will have a mandatory payout in the Rainbow 6 on Saturday's card, which features the Florida Sire Stakes series. This week's jackpot returns Thursday with a carryover of $284,000 … The Saturday, Aug. 29 card features the Affirmed and Susan's Girl divisions of the Florida Sire Stakes, as well as the Sharp Susan and Proud Man Stakes for open-company juveniles … 2020 Florida Derby winner Tiz the Law turned in a bullet workout at Saratoga on Aug. 23 for his date next in the Kentucky Derby, zipping 5 furlongs in :59.47 ... Last year's Florida Derby champ Maximum Security returned Aug. 22 to win Del Mar's Grade 1 Pacific Classic. Maximum Security was disqualified from victory for interference in the 2019 Run for the Roses, denying the Florida Derby its record-padding 25th winner of the Kentucky Derby.
Stronach 5
The Stronach 5 paid a whopping $47,117 for a $1 ticket on August 21, split among 3 winners. The Stronach 5 for Friday, August 28 will be comprised of the following races (all times Eastern):
Leg A – Laurel Park Race 7 with an approximate post time of 3:56
Leg B – Gulfstream Park Race 9 with an approximate post time of 4:14
Leg C – Laurel Park Race 8 with an approximate post time of 4:32
Leg D – Laurel Park Race 9 with an approximate post time of 5:07
Leg E – Golden Gate Fields Race 2 with an approximate post time of 5:20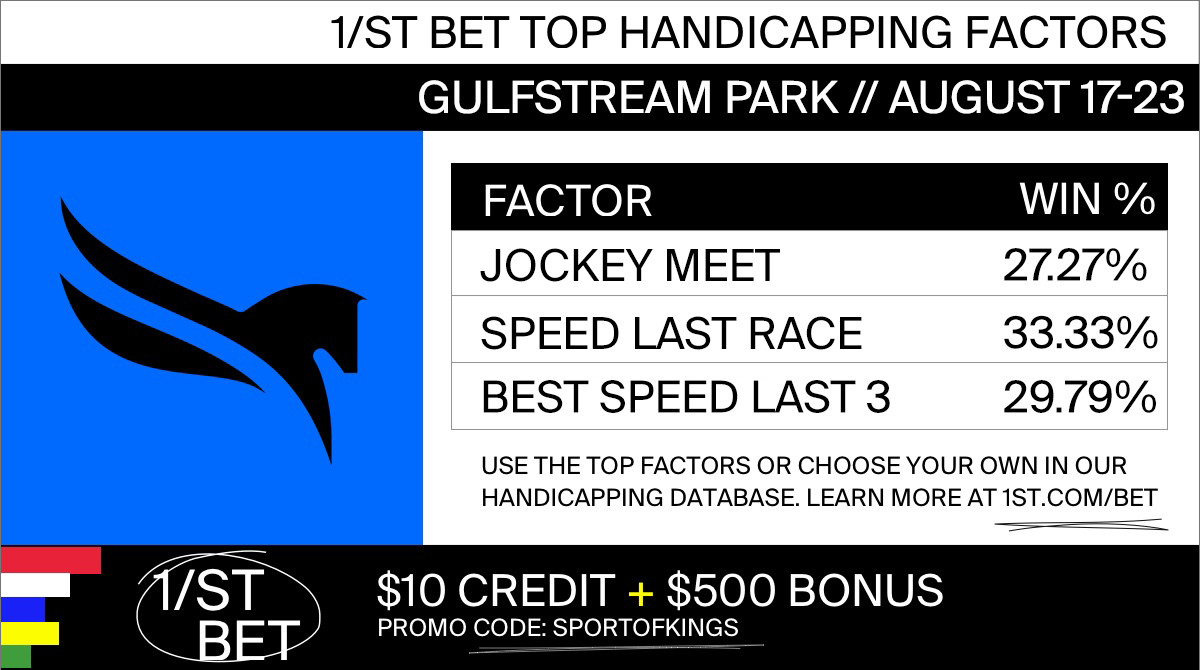 1/ST BET Top Factors Last Week:
Horseplayers using the 1/ST BET app saw the most success with these 3 of the 52 handicapping filters for Gulfstream Park, all showing a flat-bet profit and winning at 27% or greater last week. The factor "Speed Last Race" continued to be a leader locally for the second straight week.
Jockey Meet
Speed Last Race
Best Speed Last 3
Trends Last Week
--Favorites hit a strong 41% last week, winning 16 times from 39 starts with 67% in the exacta. They were 7-for-15 in the maiden ranks and 6: 3-2-0 in allowance races. Jockey Miguel Vazquez went 9: 5-2-0 on favorites.
--Trainer Antonio Sano led the way with a 14: 5-3-1 week that included a $19 winner and a 17-1 runner-up. He teamed with Edgard Zayas for a 5: 3-1-1 record.
--Trainers Gary Jackson (2-for-2) and Larry Bates (2-for-4) had good returns with limited starters. Jackson had a $12 winner among his pair of victories, while Bates scored $16 and $21 winners with Luca Panici aboard both.
--Jockey Edgard Zayas lit it up with a 29: 11-4-5 week that included 38% wins and a $1.22 ROI for every $1 bet. He went 5-for-11 on favorites.
--Jockey Leonel Reyes had a 5-win day on Sunday, Aug. 23 with all 5 winners returning 5-2 or less prices.
Trends Last 2 Weeks:
--Trainer David Fawkes has posted a 12: 4-2-2 record that's 33% wins and 50% in the exacta in recent weeks. He has gone 6: 3-1-1 with Miguel Vasquez.
--Trainer Michael Yates owns a 7: 3-1-1 mark with limited strikes. He's 2: 1-1-0 with his 2-year-olds during that time, including a 4-1 winner and 5-1 runner-up.
--Trainer Fernando Abreu has gone 5: 2-0-2 with his 2-year-olds in recent weeks. Those include a 7-1 winner and 14-1 shot in the money.
Trends Last 3 Weeks:
--Jockey Miguel Vasquez is winning at a 24% rate and has a $1.29 ROI for every $1 bet from nearly 100 mounts. He's 22: 13-3-1 on favorites during that time for 59% wins and 73% in the exacta.