We canvass the 1/ST BET statistical database each week to bring you up to speed with racing at Golden Gate Fields. Check back weekly for statistical trends and tidbits for premier racing in Northern California. And be sure to support Golden Gate Fields by betting with 1/ST BET, the official betting app of Golden Gate Fields.
Headlines
Former Santa Anita riding champion Evin Roman has moved his tack to Golden Gate Fields and posted a 10: 2-1-2 record here last week in his unveiling. Roman joins a jockeys' room that added Erick Lopez 2 weeks ago ... The jackpot Pick 6 carryover heading into Thursday's return to racing will be $35,326 … Nominations close Friday, Aug. 28 for the meet's next stakes offering, the Labor Day $50,000 Rolling Green for older turf performers.
Stronach 5
The Stronach 5 paid a whopping $47,117 for a $1 ticket on August 21, split among 3 winners. The Stronach 5 for Friday, August 28 will be comprised of the following races (all times Eastern):
Leg A – Laurel Park Race 7 with an approximate post time of 3:56
Leg B – Gulfstream Park Race 9 with an approximate post time of 4:14
Leg C – Laurel Park Race 8 with an approximate post time of 4:32
Leg D – Laurel Park Race 9 with an approximate post time of 5:07
Leg E – Golden Gate Fields Race 2 with an approximate post time of 5:20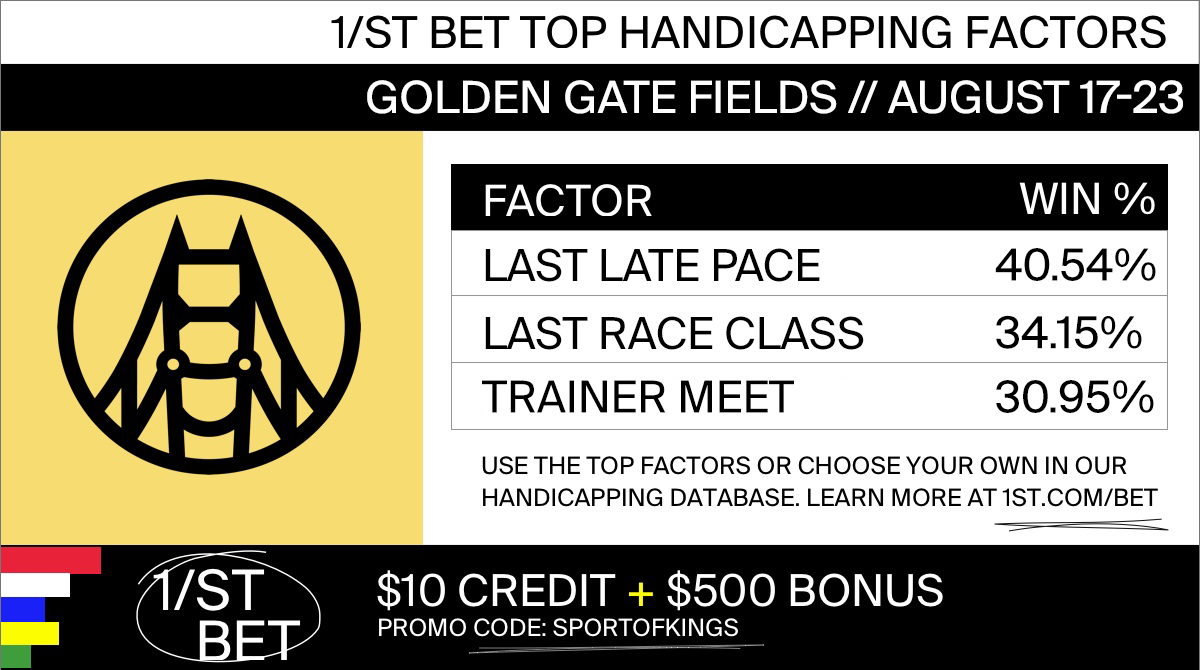 1/ST BET Top Factors Last Week:
Horseplayers using the 1/ST BET app saw the most success with these 3 of the 52 handicapping filters for Golden Gate Fields, each showing a flat-bet profit with its top-rated contender and a 31% or greater win rate. The "Last Late Pace" factor was huge with 41% winners and a $41 profit if you bet $2 to win on each top contender in that category for the week.
Last Late Pace
Last Race Class
Trainer Meet
Trends Last Week
--Trainer Jonathan Wong topped the standings at 11: 4-2-1 with all 4 winners well-backed at 5-2 or less. In fact, all 11 starters on the week were 7-2 or less and he went 6: 3-1-0 with favorites.
--Isidro Tamayo kept a hot training hand with a solid 10: 3-0-2 week that saw winners at $7, $7 and $9. Tamayo sent out only 1 favorite on the week.
--The Andy Mathis barn had a strong week with limited tries, posting a 7: 3-1-0 mark. All 4 of his exacta finishers were 2-1 or less.
--Jockey Catalino Martinez had a good week with a 15: 4-0-1 record that was good for a $1.31 ROI on every $1 bet. He went 3-for-8 in Tapeta sprints, including $11 and $15 winners.
Trends Last 2 Weeks
--Trainer Jonathan Wong boasts a 22: 8-5-2 record with identical 4-for-11 efforts each of the past 2 weeks.
--Trainer Isidro Tamayo has gone 24: 9-2-2 with a rock-solid 7: 5-0-1 mark with favorites.
--Trainer Andy Mathis has a 17: 6-4-0 record with 14 of those runners bet to 7-2 or less.
--Jockey Kyle Frey not only is winning at a 31% rate in recent weeks, he's 22-for-45 in the exacta, nearly 50%.
--Trainer Rene Amescua finished third with his only starter last week, 1 week after he popped 20-1 and 7-1 winners from only 4 starters.
Trends Last 3 Weeks:
--Over 50 mounts the past 3 weeks, jockey Santos Rivera has a 26% win rate and a rousing $1.51 ROI for every $1 bet. Of his 13 victories, only 3 were favored (3-for-5 on favorites during that span).