We canvass the 1/ST BET statistical database each week to bring you up to speed with racing at Golden Gate Fields. Check back weekly for statistical trends and tidbits for premier racing in Northern California. And be sure to support GGF by betting with 1/ST BET, the official betting app of Golden Gate Fields.
Headlines
Saturday's El Camino Real Derby is Golden Gate's biggest event of winter and matches 3-year-olds on the Triple Crown trail. Kentucky Derby qualifying points (10-4-2-1) are on the line and an automatic berth "Win & You're In" for the Preakness Stakes. Breeders' Cup Juvenile fifth-place finisher and Grade 1-placed Rombauer will vie for favoritism … The Rainbow 6 opens the week with a $5,325 while the Super High 5 has a $3,071 carryover …. Don't forget the Golden Hour Double and Pick Four each racing day, joining the final races on the card from Golden Gate Fields and Santa Anita … 2020 Cal Oaks winner Dynasty of Her Own returns to GGF Friday in a Race 3 allowance … Golden Gate has launched free race replays at Youtube.com/ggfracing.
Stronach 5
Last week's Stronach 5 paid a whopping $44,099 to 3 winning tickets. Stronach 5 races this Friday, February 12, will be:
Leg A – Laurel Park Race 8 with an approximate post time of 3:59 pm ET
Leg B – Gulfstream Park Race 7
Leg C – Laurel Park Race 9
Leg D – Santa Anita Park Race 3
Leg E – Golden Gate Fields Race 2
1/ST BET Top Factors Last Week: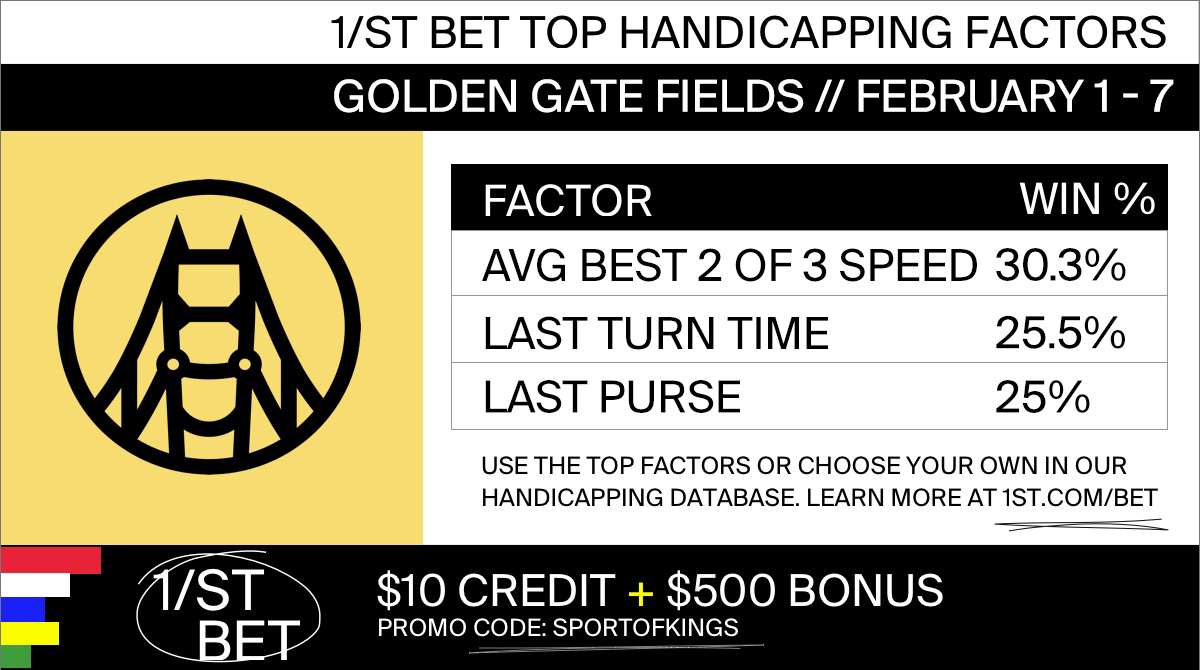 Horseplayers using the 1/ST BET app saw the most success with these 3 of the 52 handicapping filters for Golden Gate Fields, each posting at least 25% winners. The factor Last Turn Time produced a strong $39 profit if you bet $2 win on every top selection in that category.
Avg. Best 2 of 3 Speed
Last Turn Time
Last Purse
Trends Last Week
-- Jockey William Antongeorgi has been on point the past few weeks, going 16: 5-2-1 last week and is now 8 for his last 24. This past week he had a $2.25 ROI for every $1 bet, posting $11, $15 and $32 winners. All 5 victories last week were for different trainers.
-- Jockey Alejandro Gomez made a splash with an 11: 4-0-2 record, going 2-for-2 with trainer Quinn Howey. Prior to the streak, Gomez as only 3-31 since the start of the meet at Golden Gate.
-- Jockey Kyle Frey made the most of limited amounts at 7: 3-2-0 – popping not only a $32 winner, but also a 25-1 runner-up. He was 4: 2-2-0 in local sprints.
-- Trainer Andy Mathis was 9: 5-1-1, featuring 7-2 and 9-1 victories. Mathis' claimers were 4: 3-0-1 on the week.
-- Trainer Quinn Howey won with all 3 starts, posting victories with 2-5, 5-2 and 4-1 shots. Two came in the allowance ranks with jockey Alejandro Gomez in the saddle.
-- Trainer Jack Steiner went 4: 2-1-0 behind 8-5 and 9-2 winners, adding an 8-1 runner-up to the mix. The only misfire came with a 76-1 shot. Both victories came with maiden claimers.
-- Favorites dominated the action at 32: 16-6-4 last week. That's 50% wins, 69% in the exacta and even turned a $1.13 ROI for every $1 bet.