Parlay FAQs
Can you give a Parlay example?
Sure! Let's say you bet the following Parlay at Santa Anita:
$2 Parlay
Race 1 – Win #3
Race 2 – Place #1
Race 3 – Show #3, 5
If Horse #3 wins Race 1 and pays $5.60 for a $2 bet, your bet will automatically roll over to $5.60 to Place on horse #1 in Race 2. If the Place payout for your horse in Race 2 is $14.80, your bet will automatically roll to Race 3, where you'll have equal $7.40 Show bets on Horses #3 and #5. Since Race 3 is the last leg of your Parlay, your Parlay 'winnings' will be the result of those $7.40 Show bets.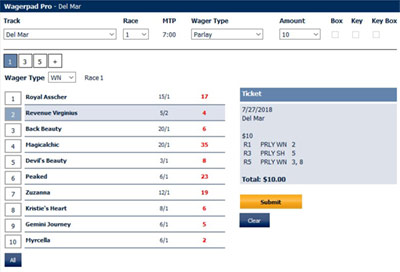 Click anywhere on the image to see larger.
How many legs are in a Parlay?
Each Parlay can be as few as two races and as many as six.
Can I alternate between different bet types in my parlay?
Yes, Parlays can use any combination of Win, Place, Show, Win/Place/Show, Win/Place, Win/Show and Place/Show bets.
Can I use multiple horses in a leg of my parlay?
Yes, you can use multiple horses in one (or more) legs of your parlay.
Why can't I bet Parlays at other tracks?
Parlays are currently only available at Santa Anita and Del Mar, with more tracks to come.
Can I end my Parlay early or 'buy out' of my bet?
Once your Parlay has started there is no way to stop it early.
What happens if my horse scratches in a Parlay?
If all horses in a middle leg of your Parlay are scratched, that leg is treated as a refund and the total balance is carried over to the next leg. If all horses in the final leg of a Parlay are scratched, the bet pays out to your balance heading into the last leg. If you have multiple horses and just one scratches, your bet will automatically be redistributed between your 'live' runners.