Jeff Siegel: Five Takeaways | From the Week Concluding December 26, 2021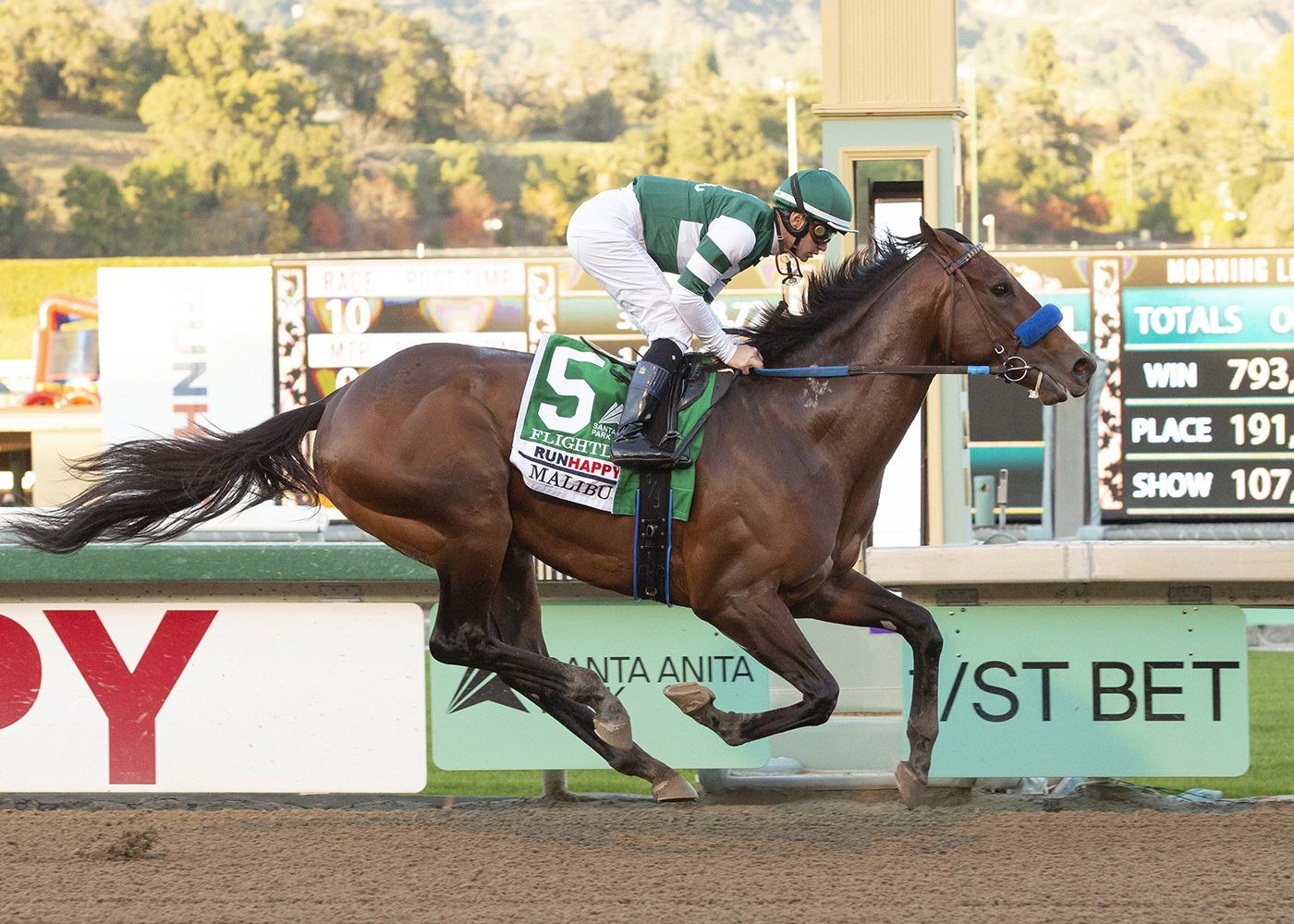 1 – Flightline may have earned an historic 118 Beyer speed figure in his Malibu S.-G1 demolition but what isn't part of the equation is that he was taken in hand outside the furlong pole and allowed to coast home, meaning the fig tells us only what he did, not what he could have done. Often times you'll see a jockey take hold of his mount that is far in front approaching the wire and give the impression that the horse could have won by a few extra lengths if ridden out, but that's not usually the case, as most of the time the horse is pretty much doing his best, anyway. But not Flightline, not in any of his three races to date. There is really no telling how much more he really had in reserve last Sunday but take a look at the tape of the Malibu and watch him gallop out. Despite being geared down pretty much the length of the lane, he continued to lengthen on his rivals and must have been 20 lengths ahead before reaching the clubhouse turn.

In just three career starts, Flightline has established himself as a world class sprinter, so next he'll be given the opportunity to show his strength over a distance of ground. In fact, it would not be surprising if Flightline never sprints again. According to Steve Andersen's Daily Racing Form story, Flightline will be pointed for Met Mile in June, though there's certainly a possibility he'll have a race or two – perhaps one that doesn't even appear on any track's stakes schedule yet – earlier in the spring.

Flightline is naturally fast, but he's such an exceptional athlete with a fluid, easy, effortless stride that he is certain to be able to carry his speed farther, and in fact may be even more devastating as the distances increase. Chew on that for a minute.


2 – Thoroughbred racing fans hoping to see an aggressive 2022 campaign from Flightline are going to be disappointed, but at least he'll be racing, even if his number of starts might not exceed four or five. Purse money is of small consideration; the true goal during the upcoming year will be to mold a campaign that maximizes his reputation and desirability a stallion prospect for the 2023 breeding season. That's where the real money is.

Flightline's sire, Tapit, has been exemplary for two decades but never established himself as a sire of sires until Constitution came along. Thanks very much to that young stallion's early success, breeders now will have no concern about Flightline's sire line, which means a beginning stud fee of $150,000 or more can be anticipated if the colt builds upon or at least maintains his superiority over whatever competition is brave enough to line up against him.


3 – While Flightline was extraordinary in victory, earlier on the opening day program fan favorite Hot Rod Charlie disappointed at 20 cents on the dollar when failing to take advantage of a pristine journey to miss by a nose to Express Train in the San Antonio S.-G2. Admittedly, we've been a Hot Rod Charlie apologist for most of the year. We even gave him an excuse when he flattened out to be a fourth in the Breeders' Cup Classic-G1 after he was forced to race on what we believed was the deeper part of the track (the rail) in what otherwise could have been viewed as a perfect trip.

He and his people are good for the game but looking at his Beyer speed figures the son of Oxbow is slowing up. His most recent 97 speed figure was his lowest since the 94 he was assigned when third in the Lewis S.-G3 last January seven races back and his recent chart shows a droppage from 111 (Pennsylvania Derby) to 107 (BC Classic) to 97 last Sunday.

Hot Rod Charlie now is bound for Dubai, where he'll race at least once (Dubai World Cup) and perhaps twice against competition that he really should be able to beat. Let's hope he can regain his mojo.


4 – A good colt can come from anywhere and Epicenter is the best we've seen so far in New Orleans. A developing son of Not This Time, the Steve Asmussen-trained colt verified a promising recent maiden win by pulverizing his rivals by more than six lengths in the 8.5 furlong listed Gun Runner Stakes at Fair Grounds on Sunday, coming away with authority after pressing the issue throughout. His 87 Beyer speed figure, a career top mark and quite legitimate for this time of the year, puts him squarely in the picture for the spring classics and the important races for 3-year-olds on that circuit after the first of the year.


5 – Saw a couple of nice maiden winners Sunday at Gulfstream Park, colts have the potential to be spring classic candidates after the first of the year. In the third race, Songbird's full brother Galt broke no stopwatches on his way to an authoritative three length maiden score over a distance on ground but at least his Beyer speed figures of 67-59-49 are moving in the proper direction. As a son of Medgalia d'Oro, the Bill Mott-trained colt should get nothing but better with distance and maturity; we'll find out much more about him when he tackles winners next month.

More impressive an hour later was the debuting Gun Runner colt American Icon from the Todd Pletcher barn. Breaking from a cozy outside draw in a seven furlong sprint, the Todd Pletcher-trained sophomore quickly established the pace in hand and then found plenty extra when asked for a second move entering the lane, eventually posting and eight-and-one-half length tally. The assigned Beyer figure of 74 won't wow anybody but it's a good starting point for another colt that projects to step forward considerably around two turns.