We canvass the 1/ST BET statistical database each week to bring you up to speed with racing at Gulfstream Park. Check back weekly for statistical trends and tidbits for premier racing in South Florida. And be sure to support Gulfstream Park by betting with 1/ST BET, the official betting app of Gulfstream Park.
Headlines
The Sunday, Aug. 9 mandatory Rainbow 6 payout pool lured $4.1 million in new money and returned $61,593.78 for each 20-cent ticket. The Rainbow 6 jackpot pool starts anew with racing Thursday-through-Sunday this week. Grade 1 Florida Derby winner Tiz the Law rolled to victory in the Aug. 8 Travers at Saratoga and closed as the even-money favorite in this past weekend's final Kentucky Derby Future Wager Pool. This week's featured race will be Sunday's $60,000 Richard Henry Lee Stakes at 1-3/16 miles on turf.
Stronach 5
The Stronach 5 paid $7,492 for a $1 ticket on August 7, and this week returns with Golden Gate Fields back in the mix. The Stronach 5 for Friday, August 14 will be comprised of the following races (all times Eastern):
Leg A – Laurel Park Race 7 with an approximate post time of 3:58
Leg B – Gulfstream Park Race 9 with an approximate post time of 4:14
Leg C – Laurel Park Race 8 with an approximate post time of 4:32
Leg D – Laurel Park Race 9 with an approximate post time of 5:07
Leg E – Golden Gate Fields Race 2 with an approximate post time of 5:20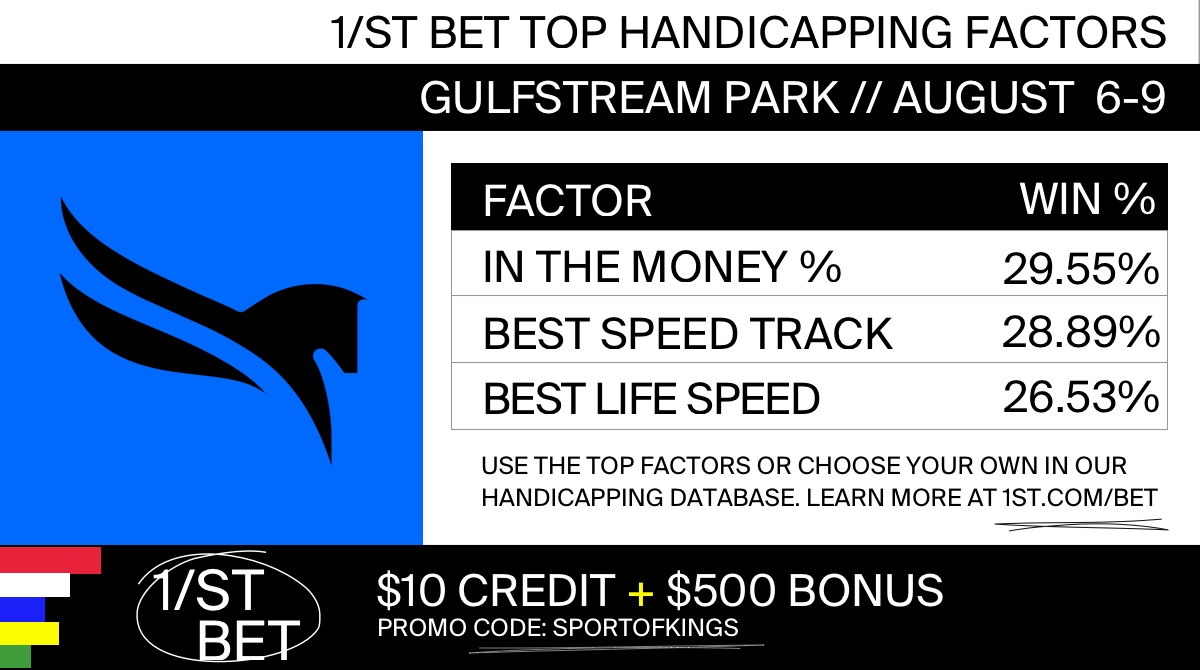 1/ST BET Top Factors Last Week:
Horseplayers using the 1/ST BET app saw the most success with these 3 of the 52 handicapping filters for Gulfstream Park, all winning at 27% or greater last week.
ITM (In The Money) %
Best Speed Track
Best Life Speed
Trends Last Week:
--Trainer Carlos Davis was pinpoint at 11: 5-1-1 and a $1.96 ROI for every $1 bet. He kicked off the week 3-for-3 on Aug. 6-7 and added his juiciest price at $17 in Sunday's Rainbow 6. All 11 of his starters were entered for turf on the week.
--Trainer Oscar Gonzalez posted a 7: 3-0-1 mark with winners paying $6, $6 and $10 (2-for-3 with maiden claimers). He also had 12-1 and 52-1 prices land in the superfecta.
--Trainer Antonio Sano's 6: 2-1-0 record included a $47.60 longshot score and another juicy $15 return. His runner-up checked in at 9-1 odds.
--Jockey Angel Rodriguez went 11: 3-1-1 with limited mounts, including winners at $4, $12 and $42 and all of those wins came in turf sprints. Those provided a $2.68 ROI for every $1 bet.
--Favorites underperformed slightly at 33% on the week with an average winner of more than 5.5-1 odds. By comparison favorites hit at 38% for the month of July.
Trends Last 2 Weeks:
--The jockey-trainer tandem of Samy Camacho and Carlos David are 4-for-6 with winners paying $3, $5, $7 and $11. Trainer David is 16: 7-1-1 and hitting at 44% during the past 2 weeks.
--Trainer Kathy Mongeon quietly has gone 3: 2-1-0 with limited strikes, featuring $6 and $10 winners to her credit.
--Trends Last 3 Weeks
--Favorites continue to dominate maiden claiming races. They're on a run of 32: 17-4-3 the past 3 weeks (53% wins, $1.43 ROI for every $1 bet).