We canvass the 1/ST BET statistical database each week to bring you up to speed with racing at Golden Gate Fields. Check back weekly for statistical trends and tidbits for premier racing in Northern California. And be sure to support Golden Gate Fields by betting with 1/ST BET, the official betting app of Golden Gate Fields.
Headlines
Golden Gate Fields opens its 2020 summer-fall meeting Thursday with the first of its four-day racing weeks, Thursday through Sunday. The meet runs through October 4. Post time will be 1:45 pm PT with 7-race cards on Thursday, 8-race cards on Friday, and 9-race cards the weekend norm. The previous two weekends of local racing were held in conjunction with the Sonoma County Fair.
Stronach 5
The Stronach 5 paid $7,492 for a $1 ticket on August 7, and this week returns with Golden Gate Fields back in the mix. The Stronach 5 for Friday, August 14 will be comprised of the following races (all times Eastern):
Leg A – Laurel Park Race 7 with an approximate post time of 3:58
Leg B – Gulfstream Park Race 9 with an approximate post time of 4:14
Leg C – Laurel Park Race 8 with an approximate post time of 4:32
Leg D – Laurel Park Race 9 with an approximate post time of 5:07
Leg E – Golden Gate Fields Race 2 with an approximate post time of 5:20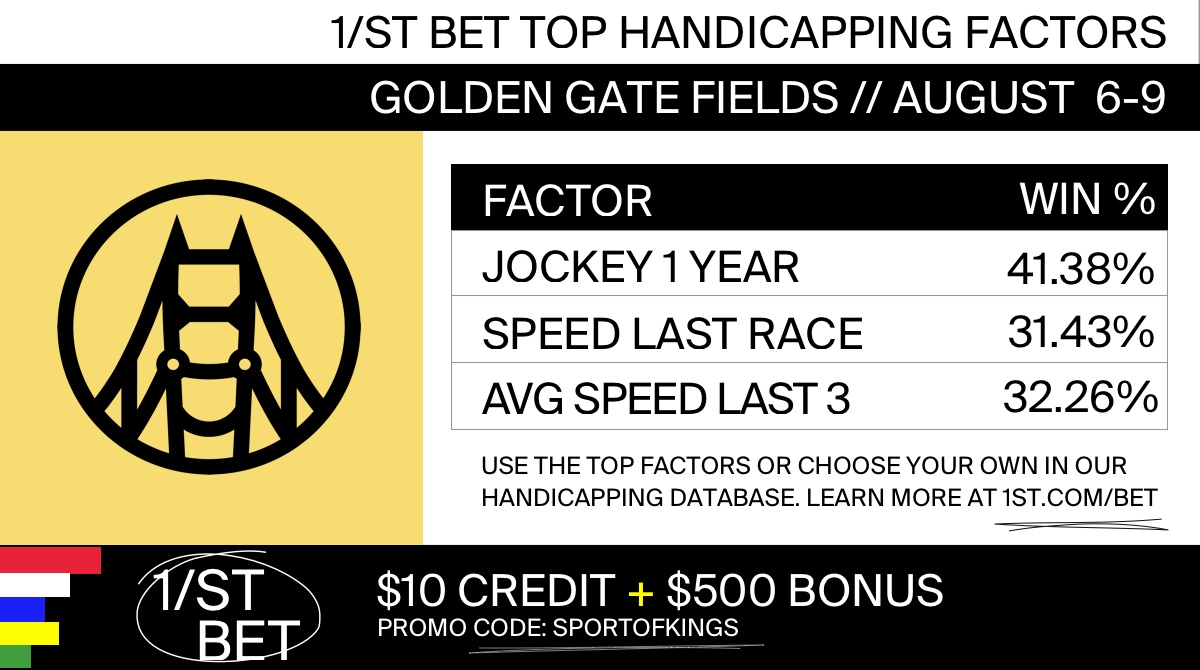 1/ST BET Top Factors Last Week:
Horseplayers using the 1/ST BET app saw the most success with these 3 of the 52 handicapping filters for Golden Gate Fields, each showing a flat-bet profit with its top-rated contender and a 31% or greater win rate.
Jockey 1 Year
Speed Last Race
Avg Speed Last 3
Trends Last Week
--Jockey Santos Rivera was on fire with 7 winners from 14 mounts. He flashed a $3.43 ROI for every $1 bet, as all 7 victories were between $11-$19.
--Trainer Jonathan Wong dominated the action with a 14: 5-3-1 mark as the only barn to win more than 2 races on the week. His runners posted a $1.42 ROI for every $1 bet. On turf, Wong trainees were 8: 4-2-1.
--Trainer Terri Eaton posted a 6: 2-1-2 record on the week with heavily backed winners at 1-5 and 3-5 odds. She did hit the board with 14-1 and 15-1 longshots.
--Favorites were 9-19 on the Tapeta (47%) and just 2-11 (18%) on turf.
Trends Last 2 Weeks:
--The jockey-trainer tandem of Kyle Frey and Andy Mathis went 8: 4-0-2 during the repositioned Sonoma County Fair meet, all winners at 5-2 or less odds (3 wins in the maiden claiming ranks).
--Trainer Samuel Calvario quietly went 3-for-6 during the mini-meet with limited starters, but popped with winners at $4, $19 and $43.