We canvass the 1/ST BET statistical database each week to bring you up to speed with racing at Golden Gate Fields. Check back weekly for statistical trends and tidbits for premier racing in Northern California. And be sure to support Golden Gate Fields by betting with 1/ST BET, the official betting app of Golden Gate Fields.
Headlines
The Jackpot Pick 6 has a carryover of $10,016 heading into this week's racing … 2019 El Camino Real Derby winner Anothertwistafate, sidelined since last year's Preakness Stakes, worked a rapid 6 furlongs in 1:10.40 before the Aug. 16 card's opening race as he readies for a return to the action … Golden Gate-based Mother of Dragons, winner of the Camilla Urso locally and most recently Pleasanton's California Governor's Handicap, competes in Friday's Grade 3 Rancho Bernardo at Del Mar along with GGF allowance winner and stakes-placed filly Mucho Amor … GGF Albany Stakes 1-2 finishers Mikes Tiznow and Baja Sur re-match Saturday in Del Mar's Grade 3 Green Flash for turf sprinters.
Stronach 5
The Stronach 5 paid $1,733.60 for a $1 ticket on August 14, split among 51 winners. The Stronach 5 for Friday, August 21 will be comprised of the following races (all times Eastern):
Leg A – Laurel Park Race 7 with an approximate post time of 3:58
Leg B – Gulfstream Park Race 9 with an approximate post time of 4:14
Leg C – Laurel Park Race 8 with an approximate post time of 4:32
Leg D – Laurel Park Race 9 with an approximate post time of 5:07
Leg E – Golden Gate Fields Race 2 with an approximate post time of 5:20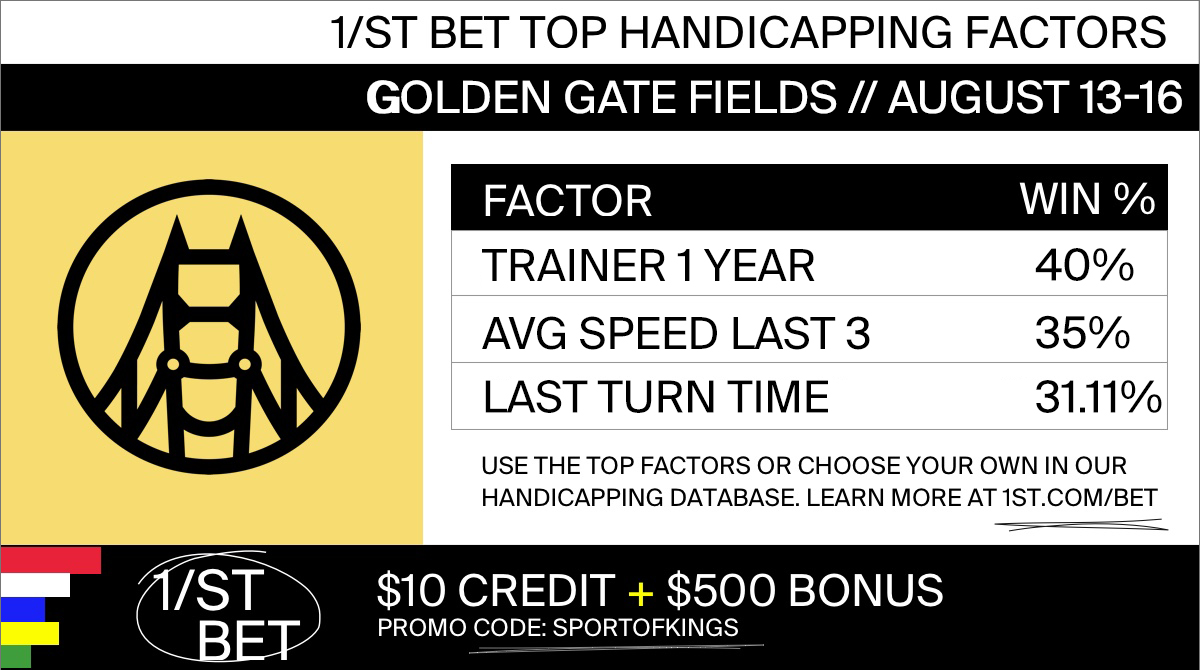 1/ST BET Top Factors Last Week:
Horseplayers using the 1/ST BET app saw the most success with these 3 of the 52 handicapping factors for Golden Gate Fields, each showing a flat-bet profit with its top-rated contender and a 31% or greater win rate. The "Avg Speed Last 3" factor has been a top-3 GGF player each of the past 2 weeks.
Trainer 1 Year
Avg Speed Last 3
Last Turn Time
Trends Last Week
--Trainer Isidro Tamayo led the way with a 14: 6-2-1 mark that boasted 43% wins and a $1.35 ROI for every $1 bet. He went 8: 5-1-1 when teamed with jockey Kyle Frey and the barn was 6: 5-0-1 with favorites.
--High-powered trainer Jonathan Wong continued strong with an 11: 4-3-1 week that featured 36% wins and 64% in the exacta. But his average winner was just 7-5 odds and resulted in a negative ROI ($.87 for every $1 bet). Wong was 2-for-2 with jockey Frank Alvarado.
--Trainer Rene Amescua popped 20-1 and 7-1 winners from only 4 starters on the week, creating a whopping $7.65 ROI for every $1 bet. Both came in claiming routes, 1 on Tapeta and 1 on turf.
--Jockey Kyle Frey continued his NorCal roll with a 26: 10-4-4 week. That's 39% wins and 54% in the exacta, creating a $1.55 ROI for every $1 bet. In addition to his above-mentioned success with trainer Isidro Tamayo, Frey also went 3: 2-0-1 for the Steve Sherman barn. His 13: 7-1-2 mark in races at a mile or longer featured an 8: 5-1-1 record in Tapeta routes.
--Jockey Frank Alvardo went 13: 5-4-1 with a selective schedule. That's 39% wins and 69% in the exacta, including an incredible 8: 4-3-0 in Tapeta sprint races and 9: 5-4-0 record with horses at 5-1 or less on any surface.
Trends Last 2 Weeks:
--Trainer Jonathan Wong has a 25: 9-6-1 record the past 2 weeks. That's 36% wins and 60% in the exacta. He's had the most success with jockeys Frank Alvarado (3-5) and Santos Rivera (3-4).
--Though he cooled a bit last week, jockey Santos Rivera has a 2-week run of 27: 9-2-1 that includes 7 winners between $11-$19. That's good for a $2.02 ROI for every $1 bet.
--Favorites are hitting 40% on the Tapeta (18-45) and 28% on turf (5-18).
Trends Last 3 Weeks:
--Trainer Samuel Calvario has an 11: 3-2-1 record with limited bids, including $43 and $19 winners, as well as 16-1 and 19-1 longshots hitting the board this past Saturday.