We canvass the 1/ST BET statistical database each week to bring you up to speed with racing at Gulfstream Park. Check back weekly for statistical trends and tidbits for premier racing in South Florida. And be sure to support Gulfstream Park by betting with 1/ST BET, the official betting app of Gulfstream Park.
Headlines
Top local 2-year-old Breeze On By, unbeaten winner of the Aug. 1 Dr. Fager to kick off the Florida Sire Series, worked 5 furlongs in 1:00.35 on Aug. 16 for his next engagement – likely the Aug. 29 Affirmed division of the FSS … 2020 Gulfstream Park Oaks heroine Swiss Skydiver added to her impressive ledger in the Aug. 16 Grade 1 Alabama at Saratoga and heads to the Sept. 4 Kentucky Oaks as co-favorite with Gamine … Gulfstream Park winners, headed by 2020 Florida Derby champ Tiz the Law, remain on target for the Sept. 5 Grade 1 Kentucky Derby, including King Guillermo, Ny Traffic, Dr Post, Sole Volante, Caracaro, Attachment Rate and possibly Jesus' Team.
Stronach 5
The Stronach 5 paid $1,733.60 for a $1 ticket on August 14, split among 51 winners. The Stronach 5 for Friday, August 21 will be comprised of the following races (all times Eastern):
Leg A – Laurel Park Race 7 with an approximate post time of 3:58
Leg B – Gulfstream Park Race 9 with an approximate post time of 4:14
Leg C – Laurel Park Race 8 with an approximate post time of 4:32
Leg D – Laurel Park Race 9 with an approximate post time of 5:07
Leg E – Golden Gate Fields Race 2 with an approximate post time of 5:20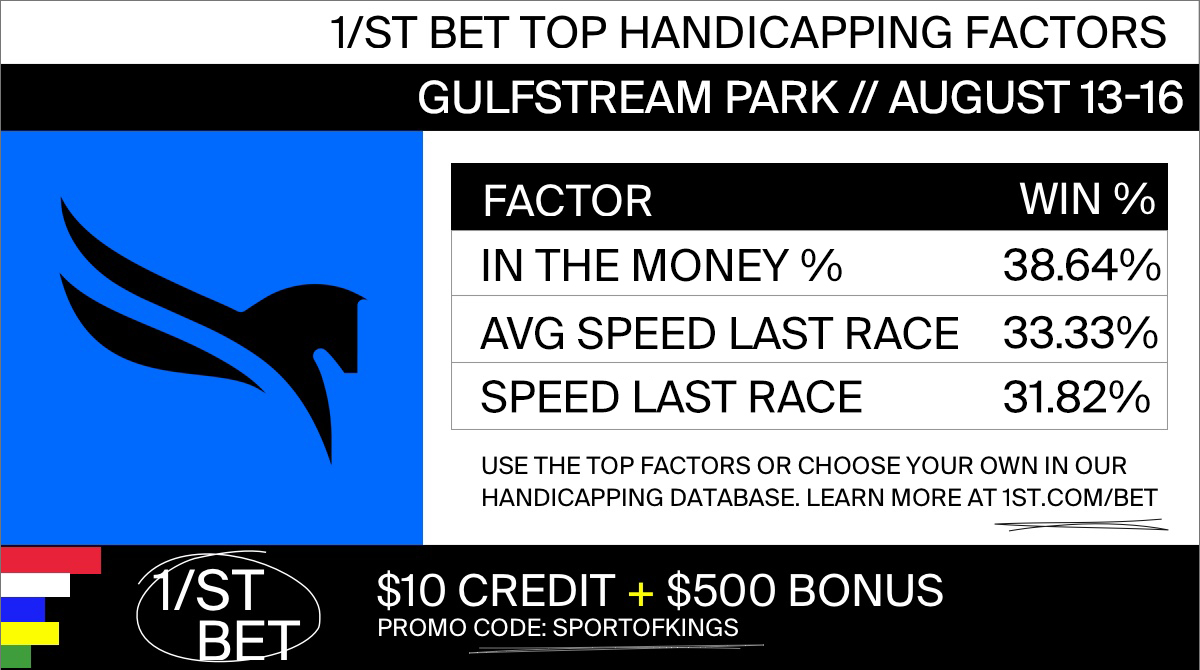 1/ST BET Top Factors Last Week:
Horseplayers using the 1/ST BET app saw the most success with these 3 of the 52 handicapping factors for Gulfstream Park, all showing a flat-bet profit and winning at 32% or greater last week. In fact, "ITM %" was the leading factor the past 2 weeks and most recently showed a $60.20 profit on betting $2 win on every top choice from that category for the week.
ITM (In The Money) %
Avg Speed Last 3
Speed Last Race
Trends Last Week:
--Jockey Miguel Vasquez won 6 races Saturday (Aug. 15), 1 off the all-time GP record. He won 12 of the 40 races offered on the week with a 34: 12-2-5 mark. His 35% strike rate netted a $1.70 ROI for every $1 bet and featured 10-1 and 11-1 winners.
--Jockey Edgar Prado posted a 5: 1-2-0 record last week in limited tries, scoring a 14-1 victory on Sunday.
--Trainer Kathleen O'Connell had a big week with a 7: 4-0-0 mark, going 3-for-3 with red-hot jockey Miguel Vasquez, including a $25 winner Sunday. Maiden claimers provided 3 of her 4 victories.
--Trainer Peter Walder was precise with a 4: 2-0-1 record, led by a $22 winner on Saturday, also ridden by Miguel Vasquez (tandem with 2-3 on the week).
--Prices clicked last week with 9 of 40 winners paying $20-plus and the average winner ticking over the 5-1 mark. Almost one-third of the claiming race winners paid $20 or more.
Trends Last 2 Weeks:
--Trainer Carlos David only had 2 starters last week, but his 2-week run at 13: 5-1-2 and a $1.65 ROI for every $1 bet remains stout.
--Jockey Angel Rodriguez has gone 20: 5-2-1 with limited mounts, including winners at $12, $25 and $42. That's produced a $2.20 ROI for every $1 bet. All 5 of his wins have come in 5-furlong dashes.
--Jockey Miguel Vasquez is 13: 8-1-1 aboard favorites. That's 62% wins and a $1.65 ROI for every $1 bet.
Trends Last 3 Weeks:
--Trainer Mike Maker has gone 7: 4-1-0 with favorites, including 6: 4-1-0 with the chalk in route races.
--The jockey-trainer tandem of Samy Camacho and Carlos David are 4-for-6 with winners paying $3, $5, $7 and $11. They did not pair up together last week.