We canvass the 1/ST BET statistical database each week to bring you up to speed with racing at Laurel Park. Check back weekly for statistical trends and tidbits for premier racing in Maryland. And be sure to support Laurel Park by betting with 1/ST BET, the official betting app of Maryland Jockey Club.
Headlines
Preakness Prep Weekend is set for Sept. 5 and 7 over the Labor Day holiday at Laurel Park, featuring 9 stakes worth $100,000 each – including the Preakness "Win & You're In" Federico Tesio … MJC announced last week that the Grade 2 $250,000 Black-Eyed Susan Stakes would be contested this year on the Preakness Day undercard Oct. 3. The Grade 3 $250,000 Pimlico Special will anchor the Friday, Oct. 2 card … The Breeders' Cup announced Aug. 24 that the Oct. 3 Grade 1 Preakness Stakes, this year's final jewel in the Triple Crown, also would be a "Win & You're In" qualifier to the Breeders' Cup Classic at Keeneland in November … Rain washed away Laurel Park's first scheduled 2-year-old turf races of the year last week. Expect to see the juveniles on grass in the coming days.
Stronach 5
The Stronach 5 paid a whopping $47,117 for a $1 ticket on August 21, split among 3 winners. The Stronach 5 for Friday, August 28 will be comprised of the following races (all times Eastern):
Leg A – Laurel Park Race 7 with an approximate post time of 3:56
Leg B – Gulfstream Park Race 9 with an approximate post time of 4:14
Leg C – Laurel Park Race 8 with an approximate post time of 4:32
Leg D – Laurel Park Race 9 with an approximate post time of 5:07
Leg E – Golden Gate Fields Race 2 with an approximate post time of 5:20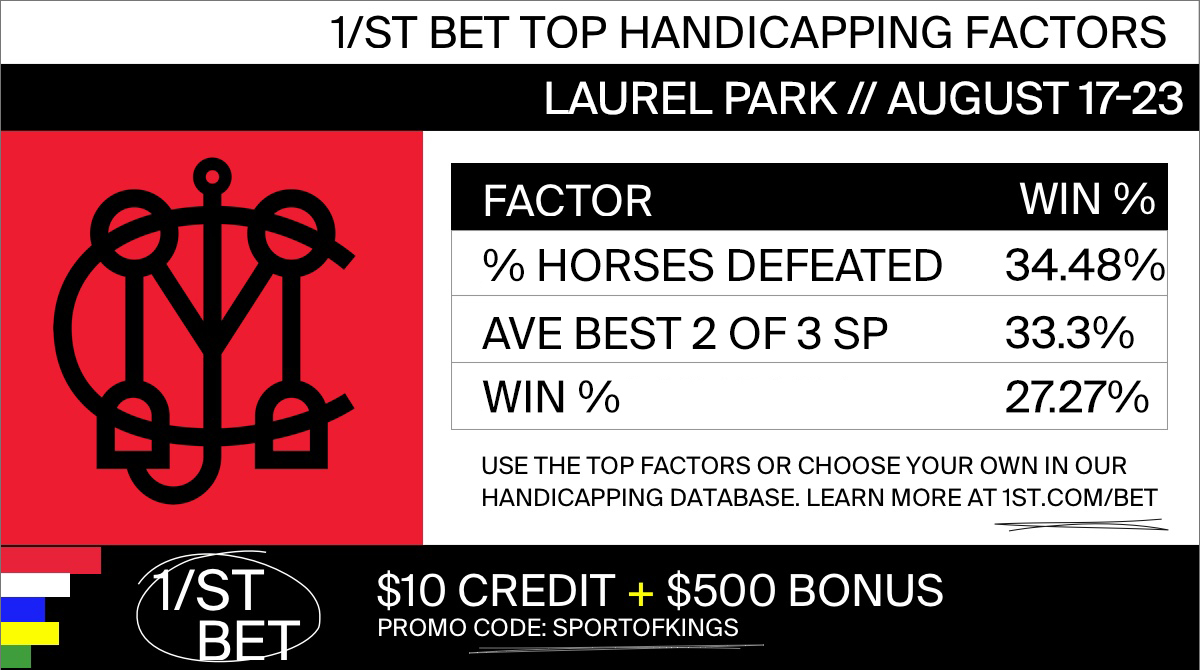 1/ST BET Top Factors Last Week:
Horseplayers using the 1/ST BET app saw the most success with these 3 of the 52 handicapping filters for Laurel Park, each showing a flat-bet profit and at least 27% wins with its top-rated contender. The leading "% Horses Defeated" category was a top-2 factor for the second straight week and produced 35% wins and a $43 profit if you bet $2 to win on each of that factor's race leader for the week.
% Horses Defeated
Avg Best 2 of 3 Speed
Win %
Trends Last Week
--Favorites went 10: 6-3-0 in maiden races last week at an average price just over 6-5 odds.
--Jockey Jevian Toledo led the colony with a 15: 4-6-0 mark, hitting 27% wins and 67% in the exacta. But all 4 of his winners, and 8 of his 10 exacta finishers, were 2-1 or less odds.
--Jockey Luis Garcia's 12: 3-0-2 week including a trio of double-digit winners at $10, $10 and $15. His ROI was $1.51 for every $1 bet. Garcia posted a 6: 2-0-1 record with trainer Bruno Tessore.
--No trainer won more than 2 races, though Ricardo D'Angelo went 2-for-2 with $6 and $12 winners of note. The barn is now 6-for-12 with limited attempts since July 10 at Laurel.
Trends Last 2 Weeks:
--Trainer John 'Jerry' Robb has an 11: 4-2-2 mark, including 3 wins in the claiming ranks and the other in a maiden claimer. Winners paid $4, $8, $10, $14 for a $1.76 ROI for every $1 bet.
--Trainer Damon Dilodovico continues to deliver with an 11: 4-4-0 record. That's 36% wins and 73% in the exacta. That run includes a pair of 5-1 winners and an 11-1 runner-up.
Trends Last 3 Weeks:
--Jockey Angel Cruz has won at 24% with nearly 50 mounts and amassed an awesome ROI of $1.87 for every $1 bet. Along the way he's posted upsets of $20, $32 and $57.--