Headlines
A $178,536 Rainbow 6 carryover welcomes horseplayers back Thursday for this week's racing … Trainer Terri Pompay not only own last Saturday's Grade 3 Smile with Cool Arrow, but she also added Sunday's Sheer Drama Stakes with Heiressall
… 2020 Gulfstream Park Oaks and Florida Derby winners Swiss Skydiver and Tiz the Law both finished second in their respective Grade 1 Kentucky Oaks and Kentucky Derby bids last week. Also at Churchill, Gulfstream-based Diamond Oops won the Grade 3 Turf Sprint Stakes to close the Oaks Day card
… Three-time Gulfstream winner Global Campaign notched the biggest win of his career in last Saturday's Grade 1 Woodward at Saratoga.
Stronach 5
The Stronach 5 paid $4,690 last week. The Stronach 5 for Friday, Sept. 11 will be comprised of the following races (all times Eastern):
Leg A – Laurel Park Race 7 with an approximate post time of 3:58
Leg B – Gulfstream Park Race 9
Leg C – Laurel Park Race 8
Leg D – Laurel Park Race 9
Leg E – Golden Gate Fields Race 3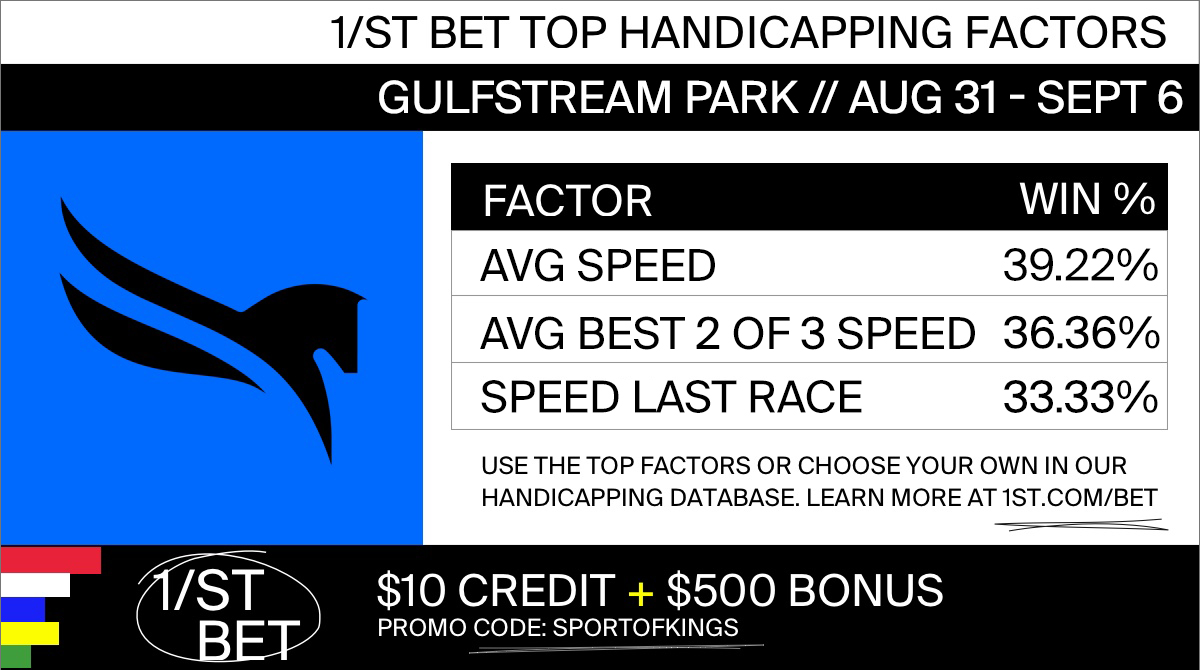 1/ST BET Top Factors Last Week:
Horseplayers using the 1/ST BET app saw the most success with these 3 of the 52 handicapping filters for Gulfstream Park, all showing a positive ROI and at least a 33% win rate last week. The factor "Avg Speed" was a top-3 factor for the
second straight week. The factor "Speed Last Race" produced a whopping $62.20 profit if making a $2 win bet on every Gulfstream race last week.
Avg Speed
Avg Best 2 of 3 Speed
Speed Last Race
Trends Last Week
--Trainer Saffie Joseph went on one of his customary tears with a 14: 6-0-2 record. Four of his winners were 2-1 or less, but he did boast $11 and $12 scores. Joseph went 7: 4-0-1 with jockey Edgard Zayas.
--Trainer Jose Francisco D'Angelo made the most of limited starts, going 4: 3-0-1. Winners were well-backed at 6-5, 3-2 and a solid 4-1 price, two ridden by Emisael Jaramillo.
--Trainer Terri Pompay, in addition to her 2 stakes wins noted in the Headlines section, was 6: 3-0-0 on the week. All 3 winners were hard-bet at 6-5, 9-5 and 5-2 odds and all came in 1-turn dirt races.
--Veteran jockey Edgar Prado had a strong week with a 20: 5-2-1 mark and $1.34 ROI for every $1 bet. He won races for 5 different barns and boasted $18 and $24 maiden claiming victories as well as 2 stakes.
--Jockey Alberto Burgos lit the board with a 16: 4-3-1 week that included $12, $35 and $66 beauties. It all added up to a $3.74 ROI for every $1 bet. Burgos also had a 26-1 runner-up in that mix. The average of his mounts was 16-1 odds.
Trends Last 2 Weeks
--Favorites are 25: 12-4-3 in 2-year-old races in recent weeks, winning 48% with 64% in the exacta. Those numbers rise to 54% and 69% when you factor out the maiden claiming juvenile races.