Headlines
The pick six carryover will be $88,170 when racing resumes Friday, along with a super high five carryover of $1,552 … Golden Gate Fields-based Anothertwistafate, the 2019 El Camino Real Derby, makes his long-awaited return Thursday night in the Grade 3 Longacres Mile at Emerald Downs. The Blaine Wright trainee has not started since lthe 2019 Preakness … 2020 San Francisco Mile third-place finisher Camino Del Paraiso, trained by O.J. Juaregui, got his stakes victory in Monday's $50,000 Rolling Green Stakes to top the Labor Day holiday card.
Stronach 5
The Stronach 5 paid $4,690 last week. The Stronach 5 for Friday, Sept. 11 will be comprised of the following races (all times Eastern):
Leg A – Laurel Park Race 7 with an approximate post time of 3:58
Leg B – Gulfstream Park Race 9
Leg C – Laurel Park Race 8
Leg D – Laurel Park Race 9
Leg E – Golden Gate Fields Race 3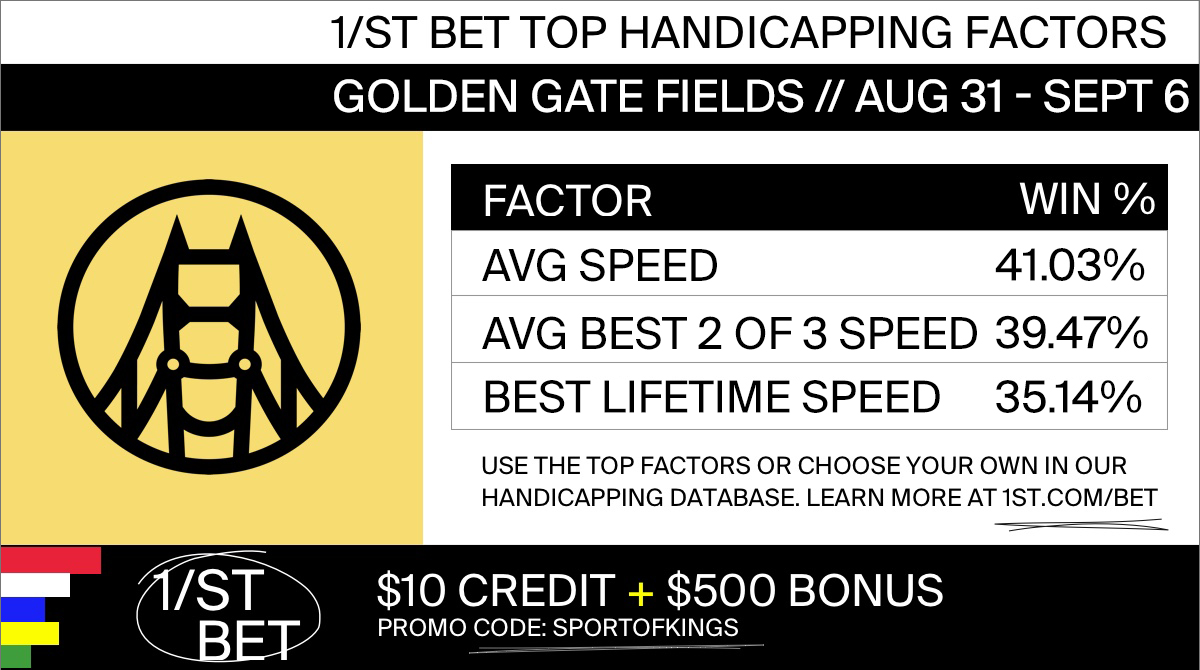 1/ST BET Top Factors Last Week:
Horseplayers using the 1/ST BET app saw the most success with these 3 of the 52 handicapping filters for Golden Gate Fields, each winning at a 35% or greater win rate.
Avg Speed
Avg Best 2 of 3 Speed
Best Lifetime Speed
Trends Last Week
--Favorites dominated the races on the Tapeta last week, hitting 56% (18-for-32).
--Trainer Blaine Wright had a big week with a 9: 4-0-1 record. All 4 winners were well-backed at 2-1, 2-1, 5-2 and 3-1 odds. Wright posted a 4: 3-0-1 record in the claiming ranks.
--Trainer Samuel Calvario went 6: 3-1-0 on the week and flashed a $2.17 ROI for every $1 bet. Winners returned 4-5, 3-1 and 5-1 prices, scoring twice in main-track claiming races.
--Trainer Billy Delia was a rock-solid 8: 2-1-2 on the week, but produced a rousing $3.34 ROI for every $1 bet. He boasted 9-1 and 15-1 winners, along with a 13-1 runner-up, teaming nicely with jockey Santos Rivera.
--Trainer Jose Bautista made the most of limited bids, winning 2 of 3, including a $24 allowance winner. He won both bids on the Tapeta.
--Jockey Julien Couton went 12: 4-3-1 last week, and better yet, produced a $3.00 ROI for every $1 bet (popping $24 and $33 winners). Couton won 3-of-4 on the turf in precise strikes.
--Jockey Alejandro Gomez was 15-4-2-0 with a $1.58 ROI for every $1 bet. His 4 wins were for 4 different barns and included $13 and $24 scores. Of his 6 exacta finishes, 5 came in sprints at 6 furlongs or shorter.
Trends Last 2 Weeks
--Favorites are 27-for-53 (51%) on the Tapeta. Jockey Frank Alvarado is 5: 4-1-0 delivering on the public choices during that time.
--Jockey Julien Couton has a massive $2.99 ROI for every $1 bet, winning at a 32% rate and landing in the exacta at 55%.