Headlines
We canvass the 1/ST BET statistical database each week to bring you up to speed with racing at Laurel Park. Check back weekly for statistical trends and tidbits for premier racing in Maryland. And be sure to support Laurel Park by betting with 1/ST BET, the official betting app of Maryland Jockey Club.
The undefeated Todd Pletcher-trained Happy Saver earned an expense-paid spot in the Oct. 3 Preakness with his handy victory in Monday's $100,000 Federico Tesio Stakes, one of 9 stakes held over the holiday weekend as part of a Preakness Preview. Leading rider Trevor McCarthy, who returned last Friday from a sprained ankle, piloted Happy Saver ... A large potential field for Preakness could be building with Kentucky Derby winner Authentic and third-place finisher Mr. Big News expected. Runner-up Tiz the Law is possible, while the field should get a boost from Blue Grass victor Art Collector … Unbeaten Grand Cru Classe earned an automatic bid into the Oct. 3 Grade 3 Black-Eyed Susan with her front-running victory in Monday's Weber City Miss Stakes.
Stronach 5
The Stronach 5 paid $4,690 last week. The Stronach 5 for Friday, Sept. 11 will be comprised of the following races (all times Eastern):
Leg A – Laurel Park Race 7 with an approximate post time of 3:58
Leg B – Gulfstream Park Race 9
Leg C – Laurel Park Race 8
Leg D – Laurel Park Race 9
Leg E – Golden Gate Fields Race 3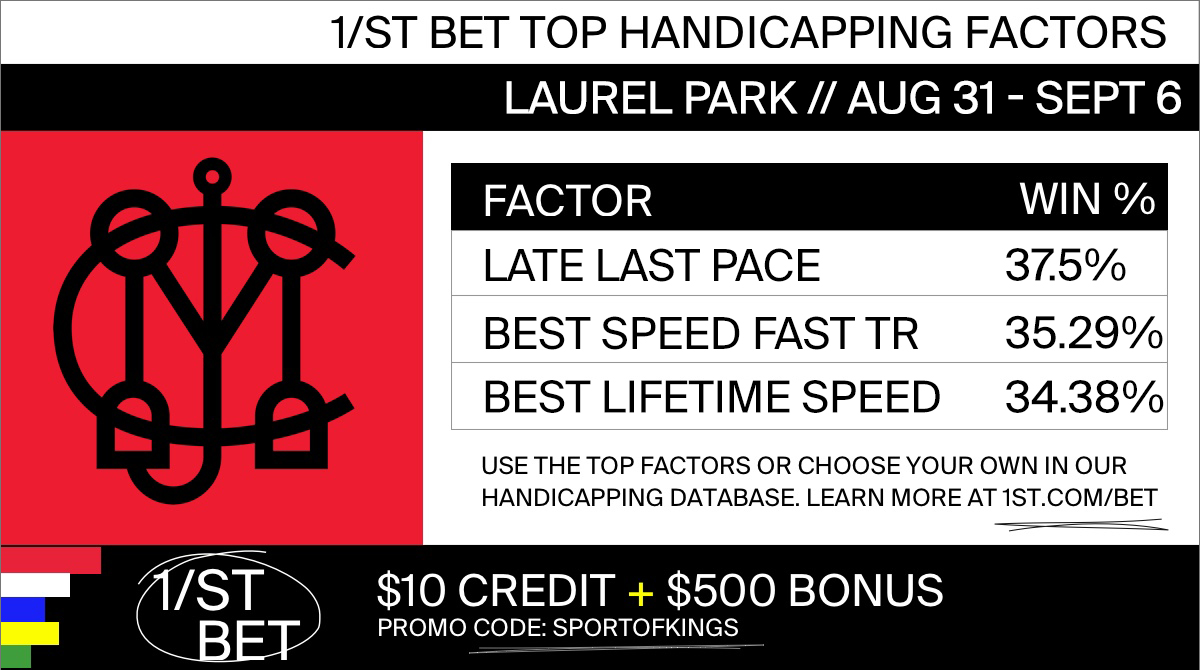 1/ST BET Top Factors Last Week:
Horseplayers using the 1/ST BET app saw the most success with these 3 of the 52 handicapping filters for Laurel Park, each showing a 34% win rate or higher with its top-rated contender.
Last Late Pace
Best Speed Fast Track
Best Lifetime Speed
Trends Last Week
--Favorites struck at 44% last week on a schedule that included 9 stakes races, but where even more dominant at 17: 10-3-2 in claiming and allowance races. That's 59% wins and 77% in the exacta.
--Trainer Claudio Gonzalez went 11: 4-0-2 on the week, the only barn to win more than 2 races. He was 6-for-6 in the money with horses 3-1 or less and off the board with the other 5 at higher odds. Gonzalez teamed with jockey Angel Cruz to go 3-for-5.
--Trainer Annette Eubanks was 3: 2-0-1 with limited tries, delivering $6 and $15 winners with a 7-1 shot on the board. Her ROI was $3.33 for every $1 bet. The barn is now 10: 4-2-2 since July 25 at Laurel with precision strikes.
--Jockey Katie Davis posted an 10: 4-0-2 mark to top the colony and a $1.65 ROI for every $1 bet. She was 7: 4-0-2 with horses 6-1 or less odds, including 2 wins with trainer Annette Eubanks.
--Jockey Weston Hamilton was 10: 3-0-0 for a huge $3.20 ROI for every $1 bet. He boasted $12 and $46 winners among his scores while riding horses at average odds of 22-1 on the week.
Trends Last 2 Weeks
--Jockey Yomar Ortiz has made the most of limited mounts, posting an 18: 4-2-2 record the past 2 weeks. That 22% win rate includes a $2.26 ROI for every $1 bet. He's 2-for-2 during that span with trainer Mario Serey.