We canvass the 1/ST BET statistical database each week to bring you up to speed with racing at Laurel Park. Check back weekly for statistical trends and tidbits for premier racing in Maryland. And be sure to support Laurel Park by betting with 1/ST BET, the official betting app of Maryland Jockey Club.
Headlines
Racing resumes Thursday through Sunday this week with first post time 12:25 pm ET daily … The Rainbow 6 has a $17,539 carryover heading into Thursday … Jockey Sheldon Russell enters Thursday's final day of the meeting with a 42-39 lead over Jevian Toledo for the meet title. Claudio Gonzalez has clinched the trainer's race, his 12th title in the last 13 meets in Maryland … Nominations close Saturday for Laurel's Jan. 16 six-pack of stakes worth $550,000 in purses. Among those will be the newly minted $100,000 Spectacular Bid Stakes for 3-year-olds at 7 furlongs.
Stronach 5
After a week holiday break for Christmas, the Stronach 5 races this Friday, January 1, will be:
Leg A – Laurel Park Race 8 with an approximate post time of 3:55
Leg B – Gulfstream Park Race 9 with an approximate post time of 4:11
Leg C – Laurel Park Race 9 with an approximate post time of 4:25
Leg D – Santa Anita Race 3 with an approximate post time of 4:32
Leg E – Gulfstream Park Race 10 with an approximate post time of 4:42
1/ST BET Top Factors Last Week: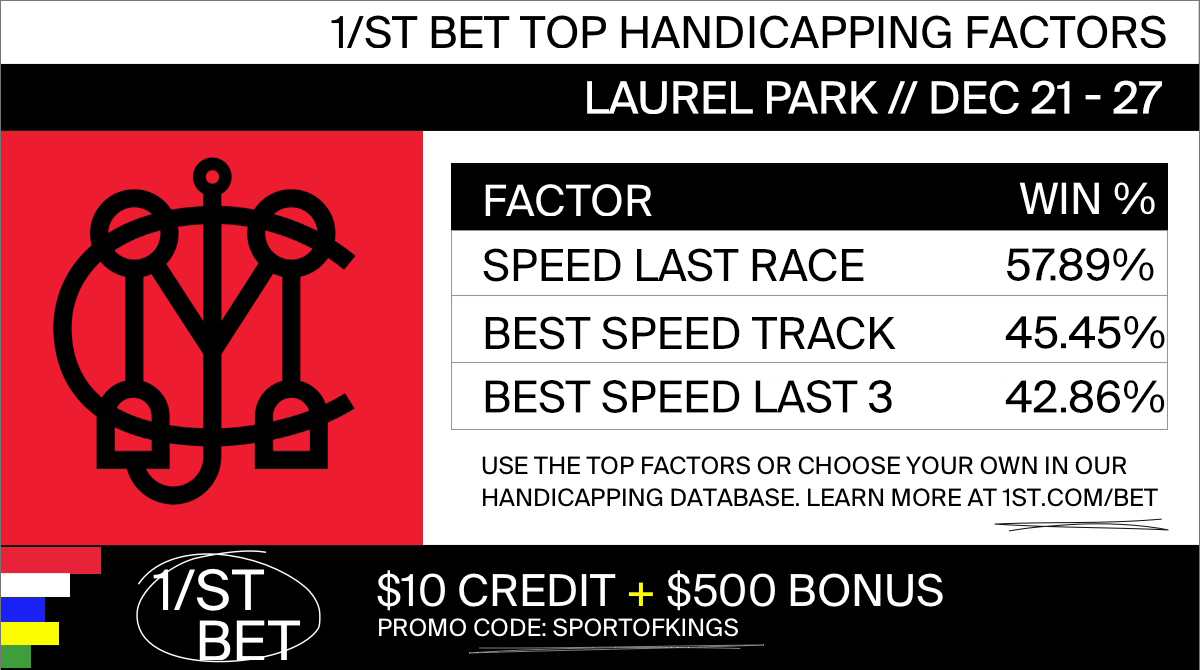 Horseplayers using the 1/ST BET app saw the most success with these 3 of the 52 handicapping filters for Laurel, each posting at least 43% winners and a flat-bet profit. For the fourth straight week, Speed factors swept the top 3.
Speed Last Race
Best Speed Track
Best Speed Last 3
Trends Last Week
-- Trainer Claudio Gonzalez went 7: 4-0-1 for the short, 2-day week, with all 4 victories at 5-2 or less odds. He won a pair of Saturday stakes with Harper's First Ride and Miss Leslie.
-- Trainer Brittany Russell was 4: 2-0-1 on the weekend, including stakes winner Whereshetoldmetogo. Russell has a 20: 9-4-2 mark at Laurel in December (45% wins, 65% exacta, 7-for-15 with jockey Sheldon Russell).
-- Trainer Jerry Robb posted a 4: 1-1-0 record with limited strikes, making him 13: 6-3-0 over the past 2 weeks. Jockey Xavier Perez has ridden 5 of the barn's 6 recent winners.
-- Favorites were 18: 10-3-1 last week (56% wins, 72% exacta) and have now won 23-for-46 over the past 2 weeks (50%).
-- Five different riders won 2 races in the limited week, notably apprentice Alexander Crispin from just 5 mounts and was the only of those to show a slight, flat-bet profit. Others include Trevor McCarthy, Sheldon Russell, Angel Cruz and Jevian Toledo.