We canvass the 1/ST BET statistical database each week to bring you up to speed with racing at Laurel Park. Check back weekly for statistical trends and tidbits for premier racing in Maryland. And be sure to support Laurel Park by betting with 1/ST BET, the official betting app of Maryland Jockey Club.
Headlines
Along with Maryland Million Day, Laurel's biggest annual day of racing comes this Saturday with the Winter Sprintfest, featuring 6 stakes races worth $900,000 in purses. Fields for Saturday already are drawn and the casts feature stakes winners like Kenny Had a Notion, Bankit, Street Lute, Hello Beautiful and Share the Ride … The Rainbow 6 has a $2,546 carryover coming into this week ... Jockey Feargal Lynch, 2-time leading rider at Pimlico, returned to action here Feb. 7 with his first mount in 200 days since suffering fractures in his neck and back. Said Lynch, "2020 was a bad year for everybody. The main thing is the family in Ireland and everything is good, so I'm happy about that. I'm just glad to get back on horses again."
Stronach 5
Last week's Stronach 5 paid a whopping $44,099 to 3 winning tickets. Stronach 5 races this Friday, February 12, will be:
Leg A – Laurel Park Race 8 with an approximate post time of 3:59 pm ET
Leg B – Gulfstream Park Race 7
Leg C – Laurel Park Race 9
Leg D – Santa Anita Park Race 3
Leg E – Golden Gate Fields Race 2
1/ST BET Top Factors Last Week: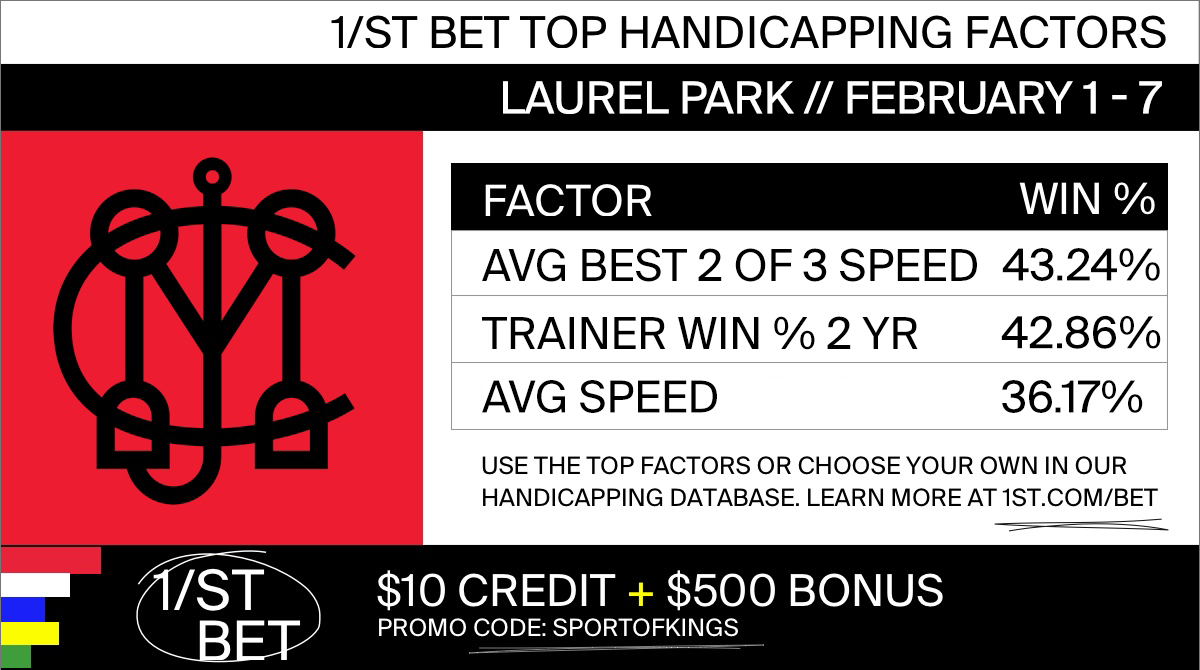 Horseplayers using the 1/ST BET app saw the most success with these 3 of the 52 handicapping filters for Laurel, each posting at least 36% wins. Speed factors remained at the head of the list again this past week as they have for much of the past few months.
Avg. Best 2 of 3 Speed
Trainer 2 Year %
Avg. Speed
Trends Last Week
-- Leading trainer Claudio Gonzalez was at it again with a 13: 6-2-3 mark. That's 46% wins and 62% in the exacta for a $1.49 ROI for every $1 bet. Every horse he ran on the week was 4-1 or less odds. He went 3-5 with jockey Angel Cruz.
-- Trainer Jerry Robb went 7: 3-0-2 and is now 5 for 11 over the past 2 weeks. His winners most recently returned $9, $13 and $18 healthy prices for a whopping $2.93 ROI for every $1 bet on the week. Robb was 4: 2-0-2 with his main rider Xavier Perez.
-- Trainer Keiron Magee didn't miss the mark at 5: 2-0-3 with all starters in the claiming ranks. His winners included a $13 price.
-- Trainer Richard Sillaman won with both of his starters at 1-1 and 5-2 returns. Jockey Alexander Crispin was aboard both claiming runners, 1 sprint and 1 route. The barn has won with 3 straight starters at Laurel going back to Jan. 24.
-- Jockey Horacio Karamanos posted a 9: 5-2-0 record with a monster week. His $2.53 ROI for every $1 bet including a pair of $14 winners. He also had an 8-1 runner-up. All 5 wins came for different trainers, while he was 3: 1-2-0 with trainer Jose Corrales.
-- Jockey Sheldon Russell was 5: 2-3-0 aboard favorites, not missing an exacta, and was in the exacta on 54% of his mounts overall for the week.
-- Trainer Anthony Aguirre, who didn't have any starters this past week, showed signs of a possible break-out to come with a 4: 0-0-3 mark 2 weeks ago, including 9-1 and 10-1 shots on the board. The barn is 8-11 in the money at Laurel since the start of December without a victory.