We canvass the 1/ST BET statistical database each week to bring you up to speed with racing at Gulfstream Park. Check back weekly for statistical trends and tidbits for premier racing in South Florida. And be sure to support Gulfstream by betting with 1/ST BET, the official betting app of Gulfstream Park.
Headlines
The Rainbow 6 starts this Wednesday through Sunday racing week with a $795,288 carryover and guaranteed pool of $1.2 million … Dashers take center stage this week with Saturday's Grade 3 Gulfstream Park Sprint and Grade 3 Gulfstream Park Turf Sprint … Jockey Luca Panici will be sidelined several weeks after suffering 3 fractured vertebrae … Saturday's Xpressbet Beat the Host contest will match players against Santa Anita pregame show host Tom Quigley over 10 contest races from Gulfstream and Santa Anita. Last week's host to beat, Ron Nicoletti, not only lit up the contest races but picked a whopping 10 winners on the Gulfstream Park card on the live simulcast show.
Stronach 5
Last week's Stronach 5 paid a whopping $44,099 to 3 winning tickets. Stronach 5 races this Friday, February 12, will be:
Leg A – Laurel Park Race 8 with an approximate post time of 3:59 pm ET
Leg B – Gulfstream Park Race 7
Leg C – Laurel Park Race 9
Leg D – Santa Anita Park Race 3
Leg E – Golden Gate Fields Race 2
1/ST BET Top Factors Last Week: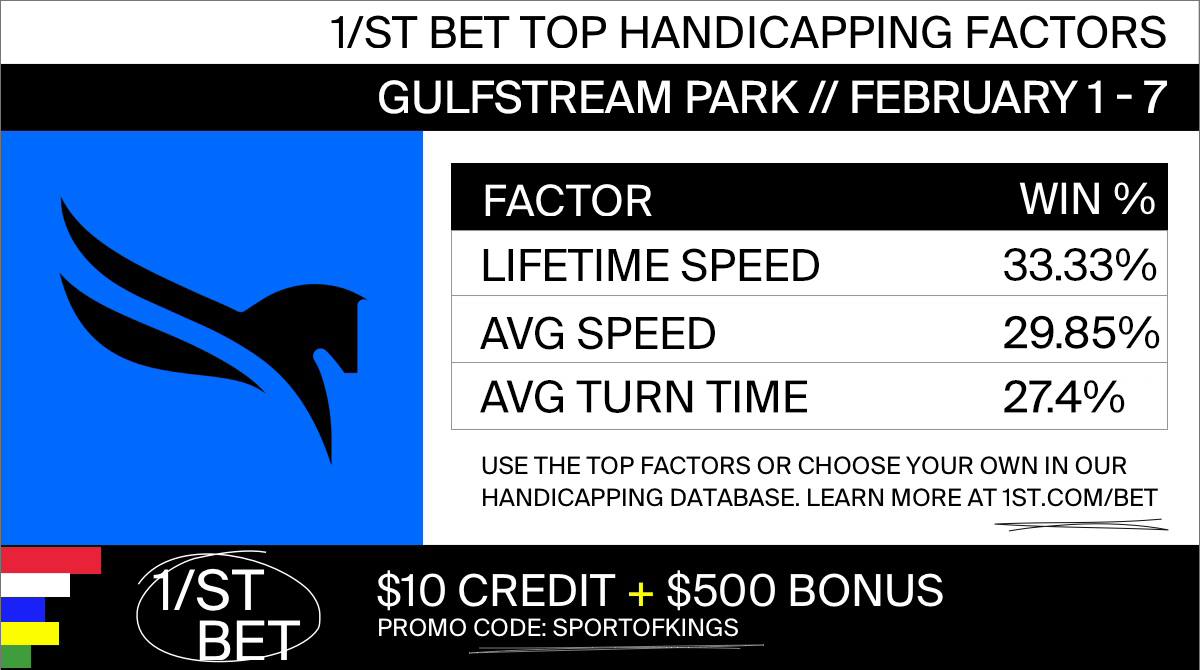 Horseplayers using the 1/ST BET app saw the most success with these 3 of the 52 handicapping filters for Gulfstream Park last week, each winning at a 27% or greater win rate. The factor Lifetime Speed produced 33% winners and a strong $52.80 profit if you bet $2 win on every top selection in that category.
Lifetime Speed
Average Speed
Average Turn Time
Trends Last Week
-- Jockey Irad Ortiz's 6-win Saturday last week was 1 short of the single-day Gulfstream Park record (held by Jerry Bailey, Tyler Gaffalione, Luis Saez and Paco Lopez). He was 10-42 on the week (24%).
-- Trainer Saffie Joseph Jr. had another high-volume week at 20: 6-2-3, making him 11-35 over the past 2 weeks. But all 6 winners last week were 2-1 or less, while managing a 7-1 runner-up and 11-1 in the trifecta. Joseph was 3-7 with jockey Edgard Zayas and 2-3 with Tyler Gaffalione.
-- Trainer Todd Pletcher posted a 9: 4-0-0 record, among those a couple of $15 winners and a sweep of Saturday's 3-year-old maiden special weight races for the colts.
-- Trainer Georgina Baxter's stable caught fire again at 4: 3-0-0 with short-priced winners at 3-5, 6-5 and 9-5 that may tell more of race placement than anything. All 3 came in dashes at 5 or 5-1/2 furlongs as is apt to happen with this barn of speedsters.
-- Favorites went 23-53 (43%) on the week, many field sizes reduced due to wet conditions.
-- Favorites won both stakes last week and are 14: 9-2-1 over the past 3 weeks at Gulfstream main events.