We canvass the 1/ST BET statistical database each week to bring you up to speed with racing at Santa Anita Park. Check back weekly for statistical trends and tidbits for premier racing in Southern California. And be sure to support "The Great Race Place" by betting with 1/ST BET, the official betting app of Santa Anita Park.
Headlines
This week's feature race will be Saturday's Grade 2 Santa Monica for filly/mare sprinters and Sunday's Grade 3 Sweet Life for 3-year-old filly turf sprinters … The Rainbow 6 starts the week with a $29,679 carryover. Last Saturday's mandatory payout in the Rainbow 6 attracted a pool of more than $5.3 million, returning $24,164 to 201 winning tickets … Saturday's Xpressbet Beat the Host contest will match players against Santa Anita pregame show host Tom Quigley over 10 contest races from Gulfstream and Santa Anita … Be sure to download Jeff Siegel's exclusive daily workout report for Santa Anita, linked in the Xpressbet Blog Section.
Stronach 5
Last week's Stronach 5 paid a whopping $44,099 to 3 winning tickets. Stronach 5 races this Friday, February 12, will be:
Leg A – Laurel Park Race 8 with an approximate post time of 3:59 pm ET
Leg B – Gulfstream Park Race 7
Leg C – Laurel Park Race 9
Leg D – Santa Anita Park Race 3
Leg E – Golden Gate Fields Race 2
1/ST BET Top Factors Last Week: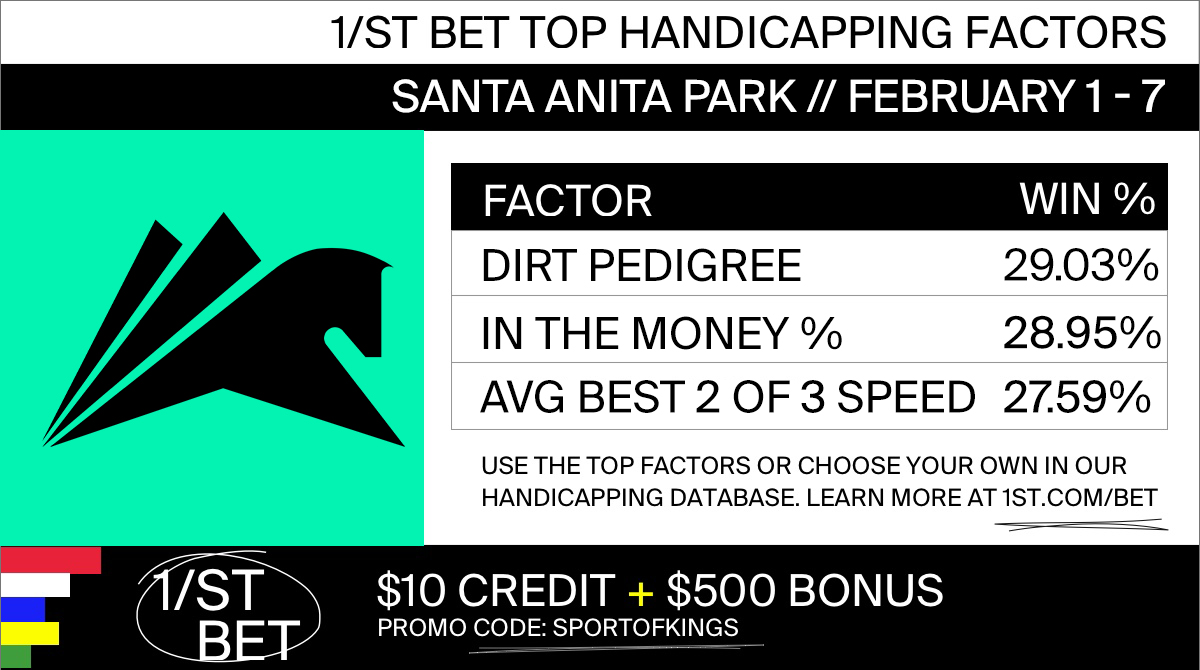 Horseplayers using the 1/ST BET app saw the most success with these 3 of the 52 handicapping filters for Santa Anita Park last week, each winning at a 28% or greater win rate.
Dirt Pedigree
ITM (In The Money) %
Avg. Best 2 of 3 Speed
Trends Last Week
-- Trainer Peter Eurton had a big week at 7: 3-1-1 and unleashed first-time starter Dream Shake to the Triple Crown trail.
-- Trainer Phil D'Amato went 12: 3-2-1
-- Trainer Mike Puype posted a 7: 2-3-0 week
-- Trainer Peter Miller, 1-9 last week, is now on a 3-39 cold streak the past 4 weeks at Santa Anita.
-- Jockey Joel Rosario had one of his best weeks of the meet at 19: 6-2-1
-- Jockey Ruben Fuentes made the most with limited mounts at 6: 2-0-0
-- Dirt favorites were 6-13 last week (46%) and now 12-25 (48%) the past 2 weeks.