Xpressbet Free Horse Racing Picks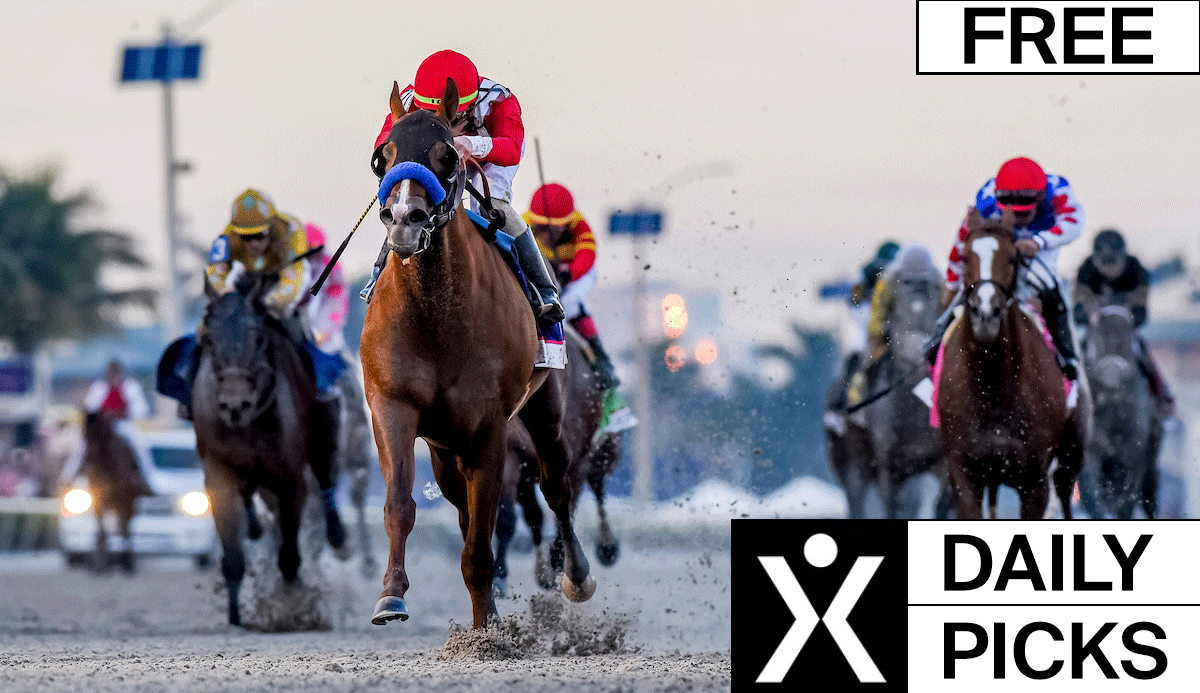 Xpressbet's Free Horse Racing Picks are produced by expert handicappers, selecting the best bets of the day on today's top tracks.
TODAY'S FREE PICK RACES
---
Sunday, July 5, 2020

Gulfstream Park : 4,5,8
Belmont Park : 6,8,10
Ellis Park : 5,6,8
---
TODAY'S SPOTLIGHT PICKS
Gulfstream Park - Race #8
#3 Isla Road
#8 Crown and Sugar
#2 Midnight Soiree
Race Summary
#3 Isla Road: Lost a three-horse photo on turf last time and wins if she improves slightly off that one; has been competitive in stakes at GP.
#8 Crown and Sugar: Set the pace and was caught late in a stakes race last time; takes on open company and can be a player all the way there.
#2 Midnight Soiree: Ran evenly behind slow fractions last out and likely will get a better trip in this one; can make a late run.
Final Thoughts: Isla Road just missed in his 1st in three months and is perfectly placed; can get the stakes victory this time around.
Belmont Park - Race #8
#2 Big Thicket
#1 Giant Shoes
#7 Quickflash
Race Summary
#2 Big Thicket: Class riser aired off the Rodriguez claim last time and meets a modest field on the rise, and if he runs back to that last, he's going to bury this meek group; love his chances here.
#1 Giant Shoes: Price player has only run once on a fast track and it was a solid 3rd, goes turf-to-dirt and second-off the break, and will be a very square number as well; thinking he fires a biggies.
#7 Quickflash: Logical contender caught slop last time and was a clear 2nd to a runaway winner, now adds blinkers for a bit more focus, but will probably be a bit overbet as well; underneath only.
Final Thoughts: You won't get rich on the 2 but if he runs back to his win off the claim last time he's beating this group, and that makes $7 in the win end not too bad at all, so play him aggressively to win and place, and get some added value by keying him in the late Pk5/Pk4 as well, since this is the perfect type of field to face on the rise.
Jeff Siegel Analysis & Picks
Join Jeff Siegel every week, Thursday through Sunday, as he provides his full card analysis and picks.

A New Way to Handicap
Try out our 1/ST BET App. Availabe on iOS or in browser for Android. Existing Xpressbet members login using your same credentials to get started.
VIEW OUR TRACKS PICKS
Log In now to get the rest of our picks for Belmont Park, Gulfstream Park, Woodbine, Hoosier Park & Ellis Park, FREE, plus enjoy live video of today's races.
If you don't have an Xpressbet account, Sign Up Here and receive a free $10 + up to a $500 bonus with code SPORTOFKINGS
Plus, check out XBTV for additional content surrounding anaylsis of recent workouts, past races and more.